These gluten-free, low-carb Italian Meatballs are the perfect choice for meal prep or freezer-friendly meals! Each serving has less than 4 net carbs each!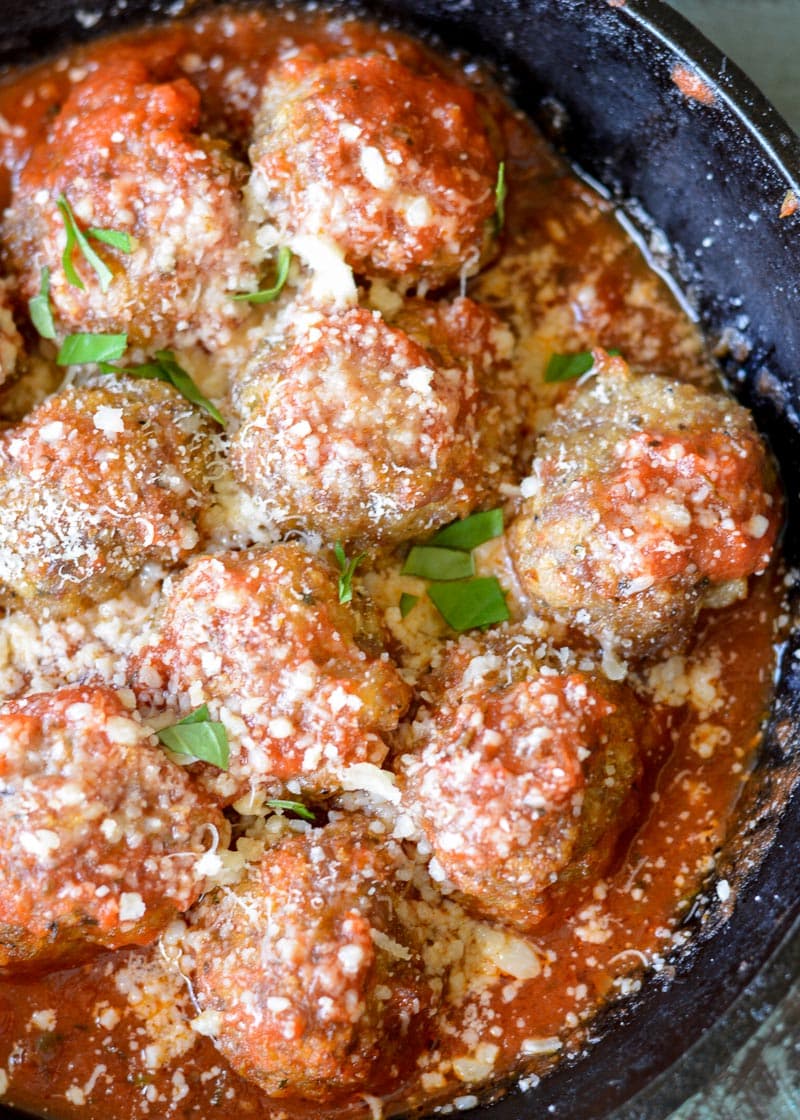 I haven't really talked much about menu planning on the blog. Which is kind of crazy because I am all about it. I have shared my love of lists with you before, so you can only imagine how detailed I get with the menu planning.
I am curious, do you do it? Do you plan everything out to a T? Do you prep meals before or do you just wing it?
We prep most things, and some meals are cooked entirely ahead of time and reheated when we're ready. If you need help meal planning and prepping a keto diet, check out my weekly Easy Keto Meal Plans! These Italian Meatballs make an appearance every now and then because they are PERFECT for meal prep!
These are fairly inexpensive, quick to make, and they freeze well. I use them in a ton of different ways for dinners and lunches–I explain those right before the recipe card down below!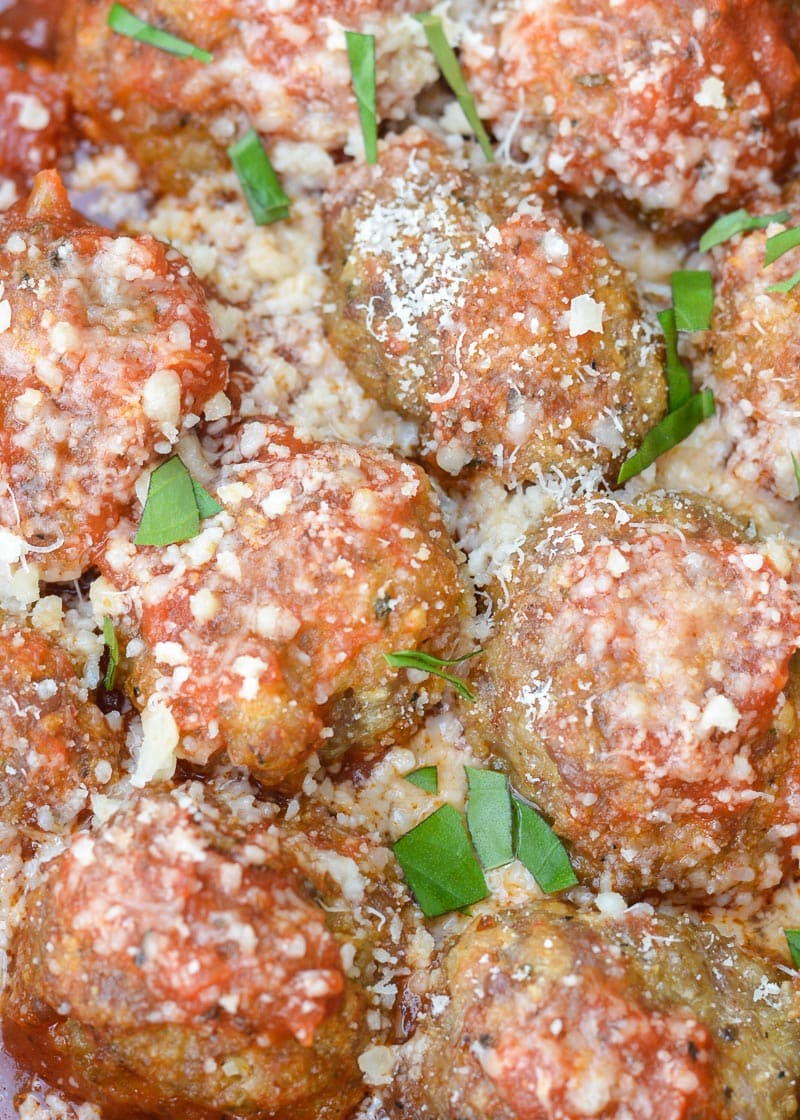 Ingredients for Keto Italian Meatballs:
Ground Italian sausage
Egg
Grated Parmesan Cheese
Pork Rind Panko (or gluten free breadcrumbs if not low carb)
Almond milk if keto or milk if not
How do you make Keto Meatballs?
These really are the easiest dish to make! Simply mix the ingredients until completely incorporate, scoop and bake! See, I told you it was easy!


Can you freeze meatballs?
Yes! That's one reason why this is the perfect freezer meal. These Italian Meatballs are just as amazing when reheated as they are when they're fresh!
If you plan on eating these up within 3-4 days, you can keep these refrigerated in an air-tight container. If you're trying to stock up on freezer meals, these will last up to 4 months frozen! P.S. You can even store them in any freezable sauce if you want to use these in a freezer dump dish!
How should I reheat meatballs?
You can reheat these meatballs in several ways, depending on your preference. All of these methods can be used for plain meatballs or meatballs with sauce. They can also be used with raw or frozen, cooked meatballs (frozen will likely just take longer).
Microwave – Place meatballs in a microwave-safe bowl and heat in 30-second intervals. If in sauce, make sure to cover!
Toaster Oven / Oven – Place meatballs in an oven-safe dish and cover with aluminum foil or a lid. Warm on 350 degrees F for 5 minutes or until heated throughout.
Slow Cooker – Pour meatballs into a slow cooker and warm on low for at least 30 minutes (timing depends on amount of meatballs and size of the slow cooker).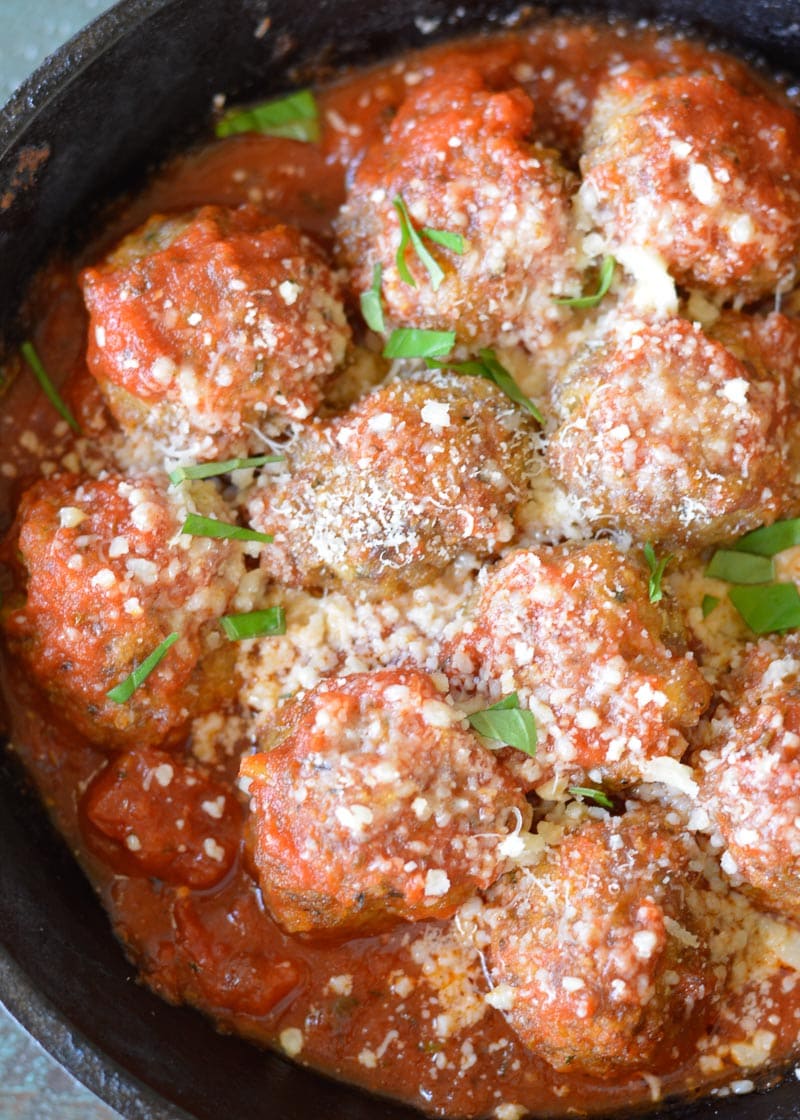 How can I use Italian Meatballs?
With this recipe, you could make a week's worth of meals for one single person!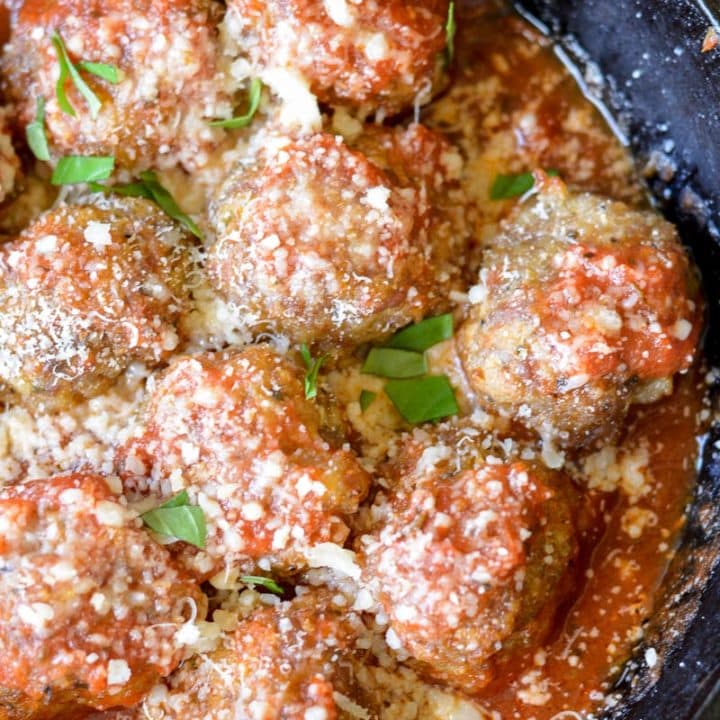 Keto Italian Meatballs
Yield:
24 Meatballs (4 servings)
Keto meatballs are smothered in low carb marinara and parmesan for an easy low carb appetizer or meal.
Ingredients
1 pound Italian sausage
1 tablespoon minced garlic
1/2 cup grated parmesan
1 egg
1/2 cup pork rind panko (if keto) or breadcrumbs (regular or gluten free)
2 tablespoons milk
Instructions
Preheat oven to 400.
Mix all of the ingredients well. This is easiest with a stand mixer, but will also work well if you use your hands.
Roll mixture into golf ball size balls
Bake for 18-20 minutes until cooked through.
You can serve the meatballs on their own, as part of a sandwich or salad. If you wish to prepare them as shown toss the cooked meatballs in low carb marinara and top with parmesan. Heat until warmed through.
Recommended Products
As an Amazon Associate and member of other affiliate programs, I earn from qualifying purchases.
Nutrition Information:
Yield:

4
Serving Size:

6 Meatballs
Amount Per Serving:
Calories:

388
Total Fat:

22g
Cholesterol:

114mg
Sodium:

1351mg
Carbohydrates:

3.9g
Net Carbohydrates:

3.9g
Fiber:

0g
Sugar:

0.5g
Protein:

39g