These Egg and Cheese Keto Sausage Balls are the perfect low-carb, grab and go, Keto-friendly breakfast option! Perfect for an easy meal prep breakfast!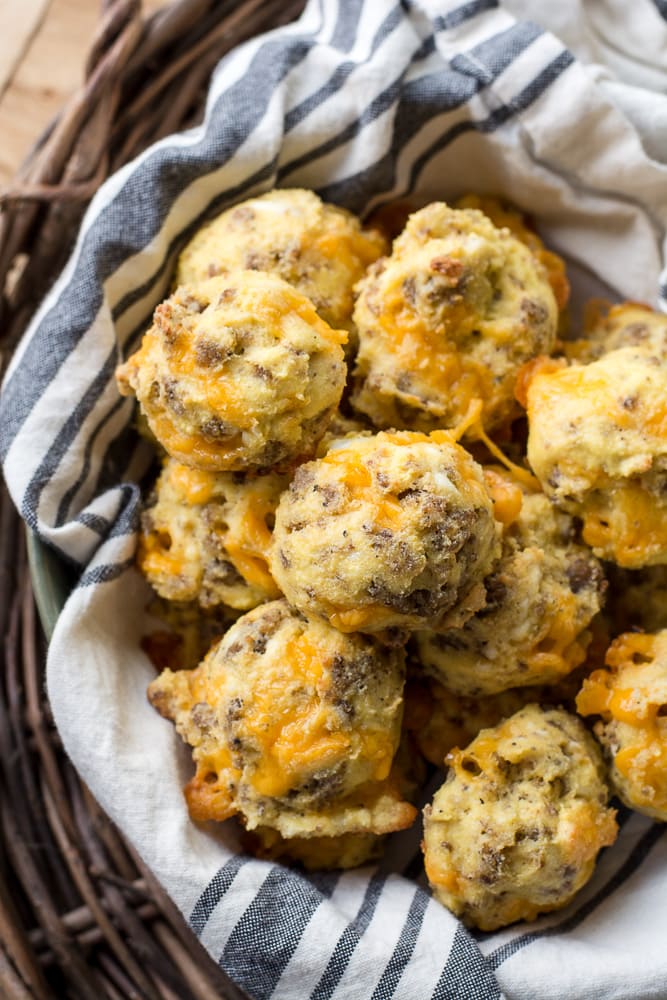 Quick, low carb breakfast options can be a tricky thing to master. When you think of a grab and go breakfast it generally consists of muffins or pastries. Lighter options might include yogurt and fruit, but if you are watching your carbs even those can add up quickly.
These delicious sausage cheese balls are a great keto breakfast on the go! Even better, they are packed with protein and are super easy to prepare.
Plus, they are KETO and gluten free. They freeze and reheat really well so you can add them to your meal prep list! Some of my other keto meal prep favorites are this Keto Lemon Chia Seed Pudding (two flavors here and so easy), these Keto Pizza Bites, and these Spinach and Cheese Bites. They seriously couldn't be any easier!
Ingredients for Keto Sausage Balls
The ingredient list for these gluten-free sausage balls is short. Unlike many sausage ball recipes, I made these sausage balls without Bisquick!
Breakfast sausage
Eggs
Cream cheese
Shredded cheese
Coconut flour
Do I have to use coconut flour?
You can sub the same amount of almond flour in this recipe if you wish. The coconut flour provides a lighter, fluffier texture and is lower in net carbs. However, if you can't or don't want to use the coconut flour subbing in almond flour will work.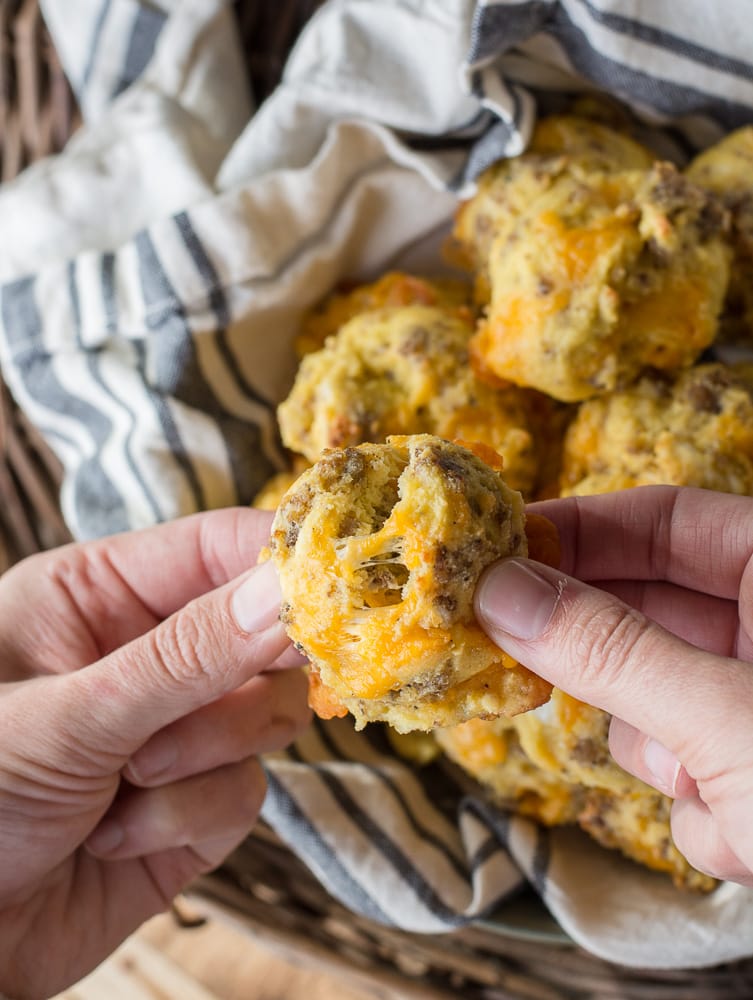 How to Make Keto Sausage Balls
Start by cooking your breakfast sausage. Once you cook your sausage, drain and set it aside.
Add the cream cheese to the bowl and mix well.
Allow the mixture to cool slightly (so it doesn't cook the eggs when you stir). Then, add the eggs, coconut flour, baking powder and cheese.
Chill the mixture to give the coconut flour time to absorb all of the moisture. DO NOT SKIP THIS STEP!
After you allow the mixture to chill 10 minutes or so, stir again and if any moisture remains allow it to chill a little longer. If you skip this step the bites will flatten as they cook.
Use a small cookie scoop and place onto a greased or silicone lined baking sheet and bake.
Once cooked, store these in an airtight container in the fridge.
How Many Carbs Are in Sausage Cheese Balls?
If you are actually following a Keto diet, here is the nitty gritty on the carbs. According to my recipe calculator, each bite (this makes 32 equal size bites with my small cookie dough scoop) has 1.2 grams of carbs and 0.5 grams of fiber.
Making each little bite just 0.70 net carb, so even if you pop five of these delicious bites you are only at 3.5 carbs. Check just below the recipe card for the nutrition breakdown.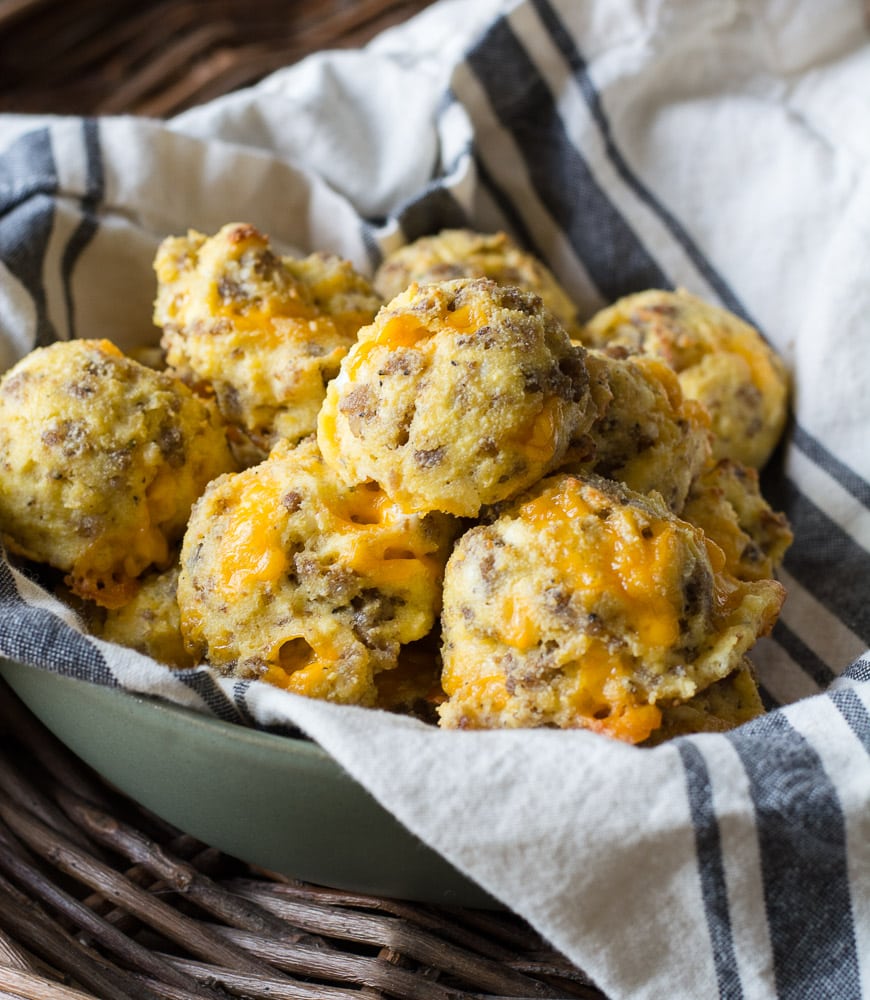 Can I Freeze the Keto Sausage Balls?
Yes! After I bake and allow them to cool, I freeze the low carb sausage balls on a cookie sheet and then put them all in a large freezer bag. This way they don't clump and freeze together and you can pull out as many as you like. To reheat, I microwave in 20-second increments until warm.
Tips for Making Sausage, Egg, and Cheese Bites
If you cannot find a keto friendly sausage at your grocery store without sweetener you can always make your own. I really like the flavor and easy of this Whole 30 and Keto Breakfast Sausage recipe.
As I've mentioned already, this recipe is a great grab and go low carb breakfast option. Store the bites in the fridge for up to 5 days, or freeze for up to 3 months. They can be reheated from frozen in the oven or microwave.
Note that you must use brick-style cream cheese for this recipe. Full-fat or light will work, but it must be brick-style.
More Keto-Friendly Breakfasts:
Need some more ideas for keto breakfasts on the go? Here are some of my favorite keto breakfast recipes that can be made in advance and eaten throughout the week.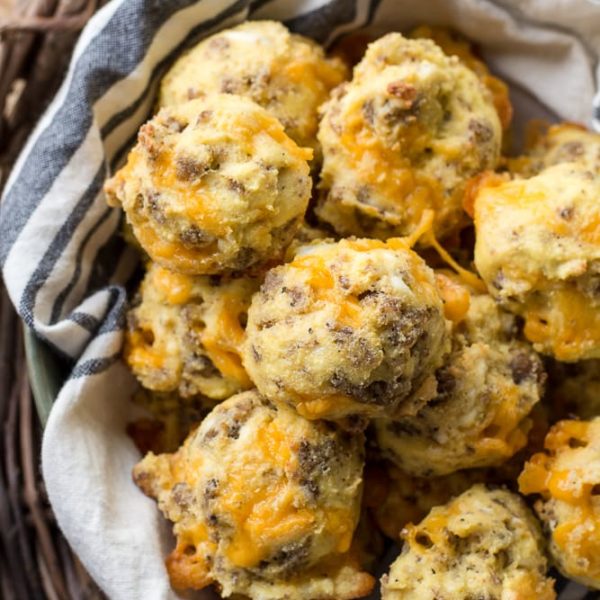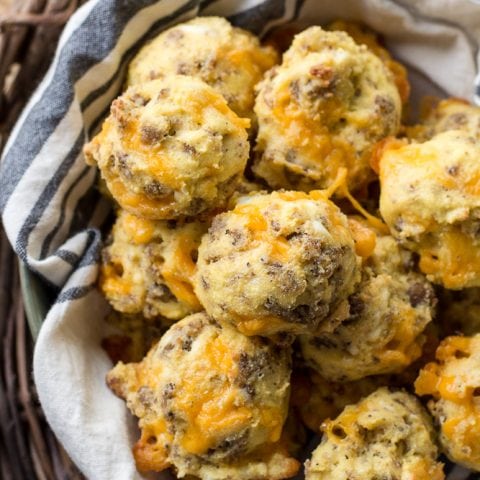 Sausage Egg and Cheese Bites (low carb + KETO)
Cook Time:
20 minutes
18 seconds
Total Time:
35 minutes
18 seconds
These Egg and Cheese Keto Sausage Balls are the perfect low-carb, grab and go, Keto-friendly breakfast option! Perfect for an easy meal prep breakfast!
Ingredients
1 pound breakfast sausage
4 ounces cream cheese, softened
3 eggs, beaten
1 cup shredded cheddar
1/3 cup coconut flour
1/2 teaspoon baking powder
Instructions
Preheat oven to 350 degrees F.
Cook your breakfast sausage, drain off any excess fat, and set it aside to cool slightly.
When the sausage has cooled, add it to a mixing bowl and combine with the cream cheese until there are no cream cheese clumps left. (It is important to make sure the sausage is not too hot before continuing as it will cook the egg when you add it in the next step).
Stir in cheese, eggs, coconut flour and baking powder.
When the mixture is well incorporated, allow it to chill for 5-10 minutes. Coconut flour continues to absorb moisture so if it seems to runny it won't be. Skipping this step and not chilling the dough will result in flat bites, not balls like you see in the photos.
Grease a baking sheet and using a small cooking scoop place the Sausage Egg and Cheese Bites on the tray,
Bake 18-20 minutes.
Recommended Products
As an Amazon Associate and member of other affiliate programs, I earn from qualifying purchases.
Nutrition Information:
Serving Size:

Nutrition per bite
Amount Per Serving:
Calories:

79
Total Fat:

5.9g
Cholesterol:

38.5mg
Sodium:

126mg
Carbohydrates:

1.2g
Net Carbohydrates:

0.7g
Fiber:

0.5g
Sugar:

0.4g
Protein:

5g
Here are the handy nutrition facts! I did this based on ONE of these delicious cheesy bites to make it simple. They have LESS THAN ONE NET CARB! Can I get an AMEN?!