These Keto Ham and Cheese Calzones make the perfect meal prep lunch! Each cheesy calzone has just 3.5 net carbs and is great for a kid-friendly keto meal!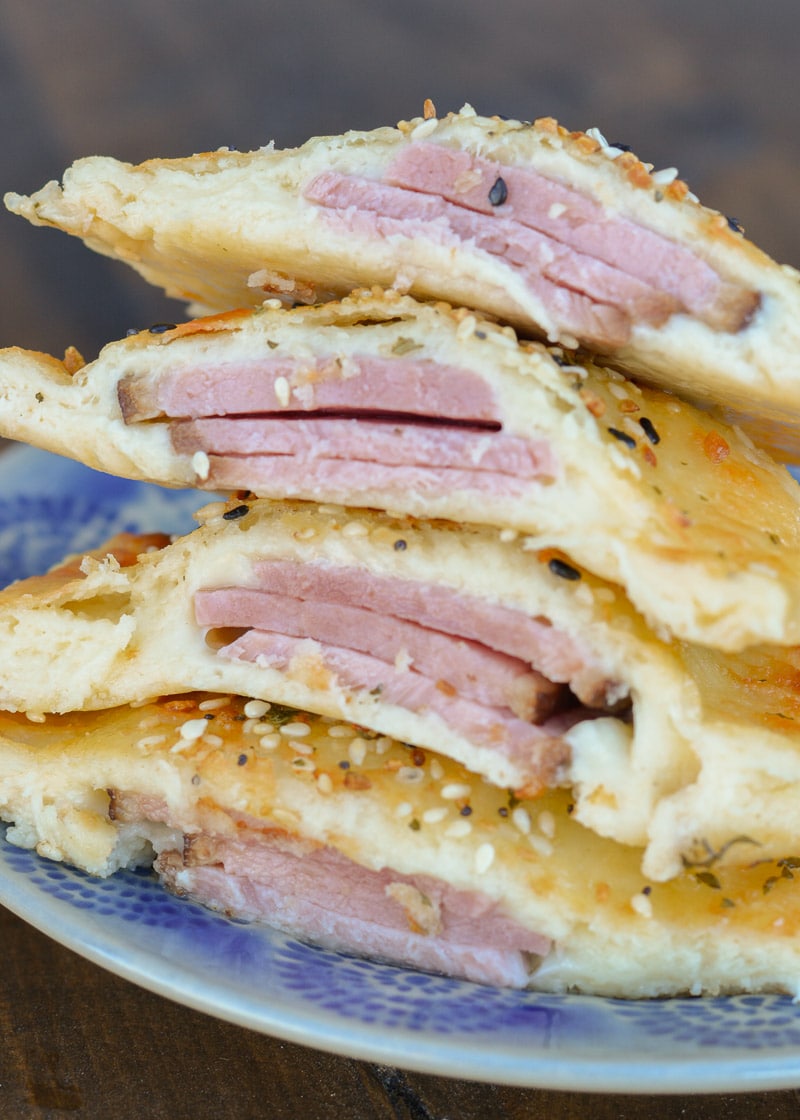 One big obstacle when starting the keto lifestyle (or really any diet) is getting everyone in the family on board. It's simple–If you have to cook a keto meal for yourself and a non-keto meal for everyone else, everything is just twice as difficult and time consuming! Instead of falling into this trap, I've found that kid-friendly keto dinner options (like Keto Pizza Bagels or Keto Chicken Tenders) have made it easier to satisfy everyone without sacrificing the keto lifestyle.
This Ham & Cheese Calzone is the perfect addition to a kid-friendly keto menu–It's sort of a cross between a calzone and a hot pocket, and it's stuffed with cheese and ham, both family favorites in this household. The crust is made from a keto-friendly fat head dough that still tastes crispy and flaky, just like you'd want in a calzone! Even better–The dough is easy to meal prep and save for future batches as well.
Ingredients for Ham and Cheese Calzone
As always, you will find the exact recipe and printable instructions at the bottom of this post, this is a quick overview of the ingredients you will need:
Cream Cheese
Mozzarella Cheese: shredded, bagged mozzarella, not fresh.
Almond Flour: I do not suggest substituting this with coconut flour.
Baking Powder
Egg whites
Ham Slices: I used thick slices, but you can use chopped or shaved ham if you prefer.
Swiss Cheese Slices: you can use another variety of cheese if you prefer such as Gouda, cheddar or Colby-Jack.
Optional: I used Everything but the Bagel seasoning for added flavor, you can use this, or a simple sprinkling of sea salt or parsley if desired.


How do you make Keto Dough?
The low carb dough used for this Keto Calzone is an almond flour fat head dough, meaning it is made of melted mozzarella, cream cheese, egg white and almond flour. If you've never tried anything like this I know it sounds odd, but trust me, it is the perfect keto crust! I highly recommend trying it for Keto Pigs in a Blanket, Pizza Rolls, and more!
How to Store a Keto Calzone
Allow these perfect little hot pockets to cool completely. Wrap each calzone individually in plastic wrap and store in an air tight container. These calzones are good up to 5 days if stored properly.
If you would like to freeze these calzones for later cool completely, wrap and store in a freezer bag. To reheat, allow it to thaw overnight in the fridge or for a couple hours at room temperature, then reheat in the air fryer or oven as directed below.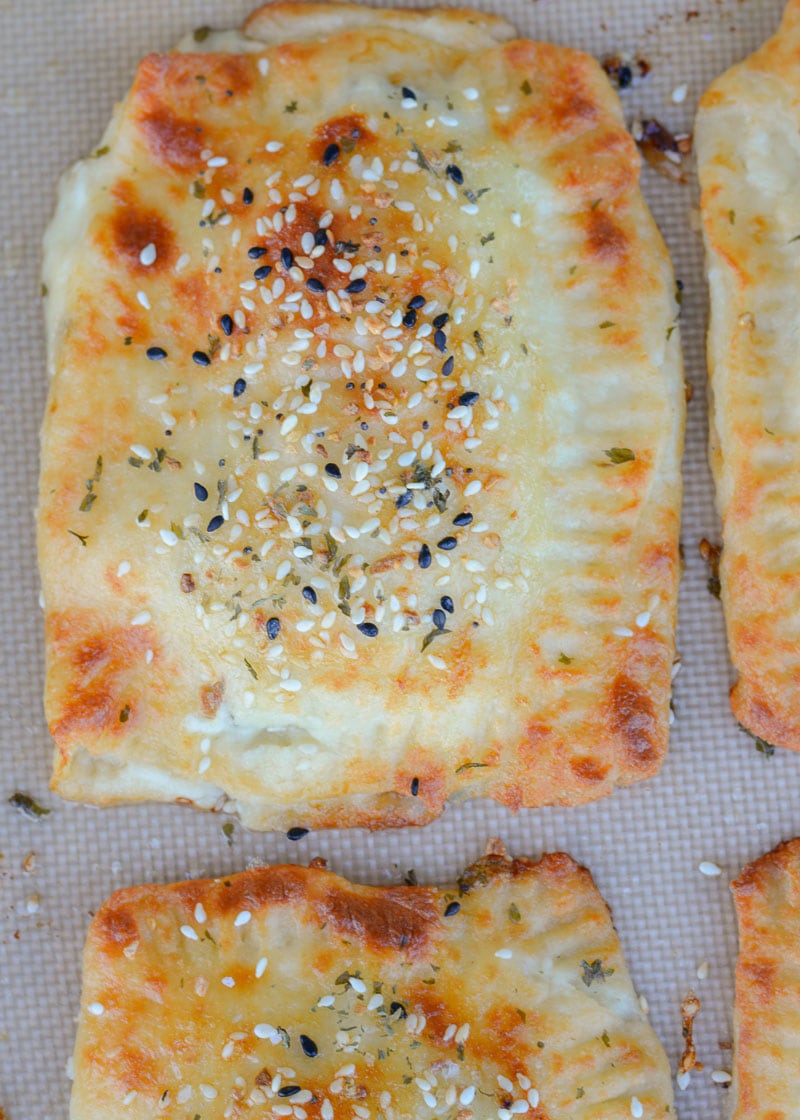 How to Reheat a Keto Calzone
Oven: If reheating a chilled, not frozen calzone simply preheat the oven to 350 degrees F and cook for about 10-15 minutes until warmed through. If reheating a frozen calzone cook at 350 degrees F for 25-30 minutes until warmed through.
Air Fryer: preheat an air fryer to 375 degrees F for three minutes. Air fry the thawed calzone for 3-4 minutes (checking half way through). To cook a frozen calzone preheat an air fryer to 375 degrees F and cook for 10-15 minutes, checking halfway through.
Microwave: this method is not recommended, it will result in a soggy crust.
What should I serve with a Ham & Cheese Calzone?
I love pairing this keto calzone with a simple vegetable like Italian Baked Mushrooms or Air Fryer Roasted Broccoli. For a comforting, super kid-friendly keto dinner, make this Cheesy Cauliflower Casserole–It gives that mac and cheese vibe with a great dose of cauliflower instead! These Broccoli Cheddar Bites are perfect for snacking and easy to meal prep, too! A small salad (like this Keto Asparagus Avocado & Tomato Salad) is easy to prepare ahead of time for lunch as well!


Substitutions and Calzone Flavors
This is an excellent basic recipe that you can use to create the perfect calzone for your preferences! Here are a few suggestions for altering the recipe for different tastes:
Use different meats — You could easily use any type of deli meat you have available! If you have leftover shredded chicken, ham, or turkey, those would be excellent uses as well. Leftover taco meat? Make a taco calzone! Wishing for a traditional pizza-flavored calzone? Add pepperoni, a little spoonful of low-carb marinara, and top with parmesan cheese.
Experiment with different cheeses — While the fathead dough cheeses (cream cheese and melted mozzarella) need to stay the save for the perfect crust, you could swap out the swiss cheese for your favorites! A sharp cheddar, mild colby jack, a smoked gouda, or a spicy pepper jack would be a great way to customize this for the groceries you already have and enjoy.
Try different spices and seasonings — I love the everything bagel seasoning, but you could use Italian, a poultry blend, a spicy pepper blend… Whatever you prefer!
Other Ham and Cheese Recipes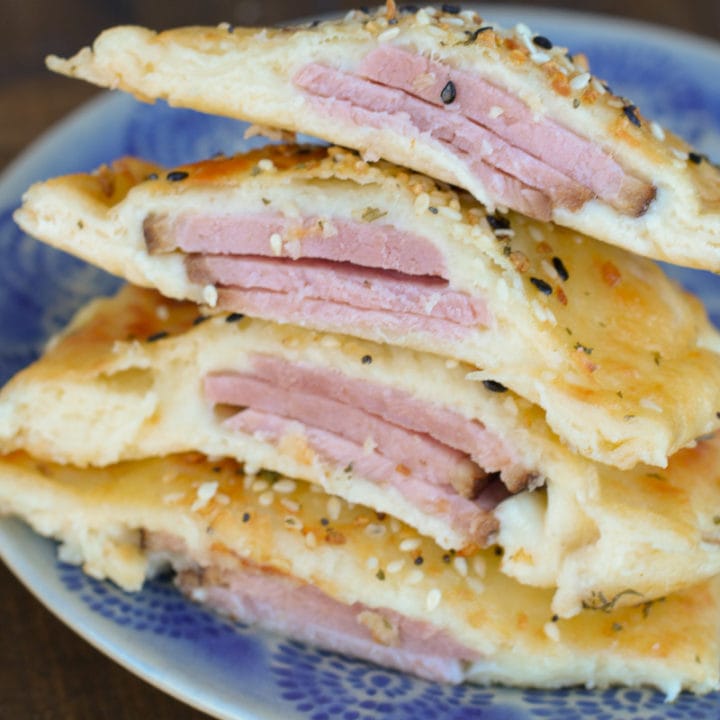 Ham and Cheese Calzone (keto + low carb)
These Keto Ham and Cheese Calzones make the perfect meal prep lunch! Each cheesy calzone has just 3.5 net carbs!
Ingredients
For the Keto Crust
1 egg white, beaten
1 1/2 cup mozzarella cheese
1 ounce cream cheese
1/2 cup almond flour
1/2 teaspoon baking powder
For the Filling
10 ounces sliced ham
4 slice Swiss cheese
For the Topping
1 egg white beaten for egg wash to brush on top
Optional: Everything But the Bagel seasoning, flake salt or parsley
Instructions
Preheat the oven to 350 degrees F.
In a large microwave safe bowl combine the mozzarella cheese and cream cheese. Heat in 30 second increments until cheese is completely melted.
Stir the cheese so they are combined.
In a second smaller bowl combine the almond flour and baking powder. Mix the almond flour with the the melted cheeses.
When the almond flour and cheese are nearly combined add in a beaten egg white and stir well.
Using your hands, work the dough to make sure the egg white is completely worked into the dough (no streaks of egg whites visible) If the dough seems too wet just add 1 tablespoon of almond flour at a time until it feels right.
Lay the dough on a silicone baking sheet. Place a second silicone baking sheet on top and spread the dough into a thin rectangle.
Cut the rectangle into four sections. Place the cheese and ham in the triangle and fold the other section of dough over. Press the seams together.
Brush each calzone with the remaining egg white and sprinkle with seasoning.
Bake the calzones 22-25 minutes until the crust has turned golden brown.

Recommended Products
As an Amazon Associate and member of other affiliate programs, I earn from qualifying purchases.
Nutrition Information:
Yield:

4
Serving Size:

1 Calzone
Amount Per Serving:
Calories:

275
Total Fat:

13.6g
Cholesterol:

40.8mg
Sodium:

489mg
Carbohydrates:

4.8g
Net Carbohydrates:

3.5g
Fiber:

1.3g
Sugar:

1.4g
Protein:

23.4g