This Roasted Cabbage is the perfect healthy side dish! Ready in 30 minutes, requires very little effort and cleanup, and has under 4 net carbs per serving!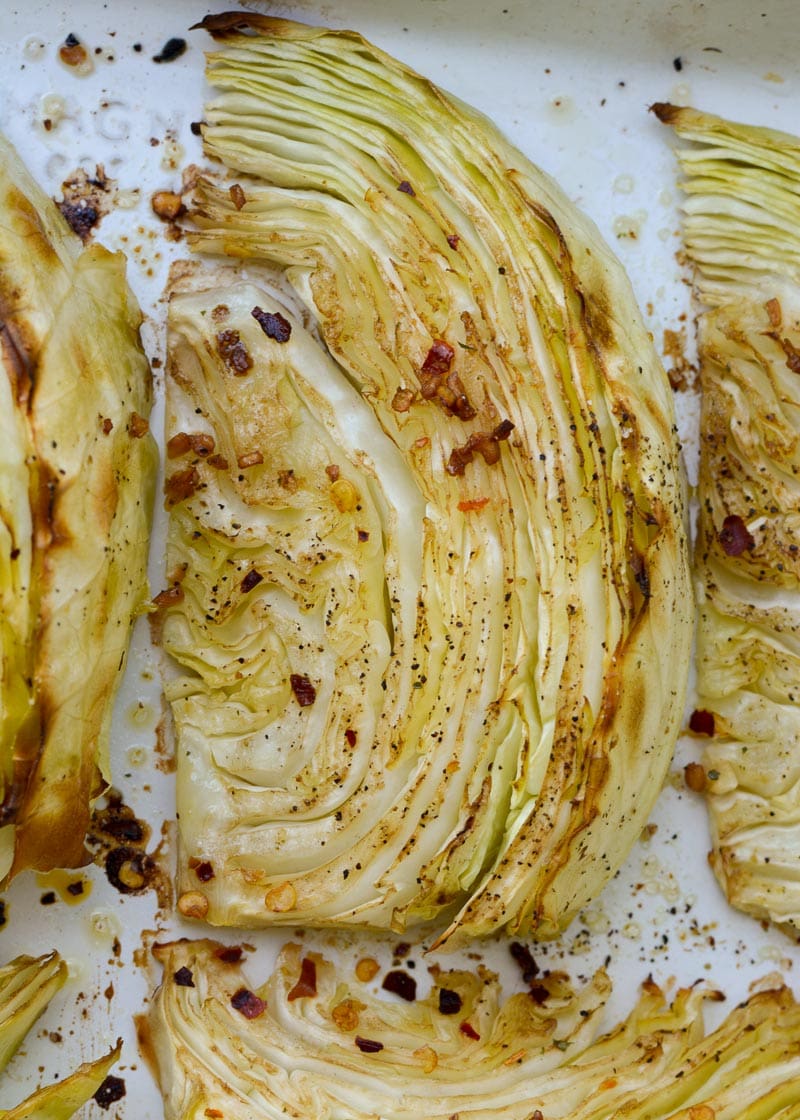 Roasted Cabbage Recipe
For a side dish this delicious, you'll be amazed it's so easy and healthy! This Roasted Cabbage is coated in seasoning and roasted at a high temperature for beautifully crispy edges. These cabbage steaks are perfectly tender and would be an amazing side dish for nearly any entrée!
This requires only four ingredients (plus salt, pepper, and red pepper flakes if you want them), so this can be thrown together easily! You can customize the seasonings based on your preference, making this a fantastic, simple dish on a busy weeknight.
This dish will add a ton of flavor and nutrients without many calories or carbs! It's great for keto meal prep and extremely versatile. You can even turn it into a sheet pan meal by cooking this Bacon Wrapped Pork Tenderloin! Just pop it into the oven for 15-20 minutes, then add your cabbage and cook as directed. This makes a super impressive, healthy dish for just 4.5 net carbs total!
Ingredients for Roasted Cabbage Steaks
As always, this is a quick overview of what you'll need. For specific measurements, keep scrolling down to the printable recipe card!
Cabbage
Olive oil
Worcestershire sauce
Garlic
Salt, pepper, and crushed red pepper flakes (optional)
How to Roast Cabbage
This dish is simple and requires few ingredients and little prep work! While the oven is preheating, slice half a head of cabbage into six wedges (feel free to double this recipe and use the full head if you'd like). In a small bowl, combine the oil, Worcestershire, and minced garlic. Brush this generously onto the cabbage wedges, making sure to cover as much as possible.
Spray a casserole dish or a rimmed baking sheet and place the cabbage wedges on it. Salt and pepper each wedge to taste, then roast 20-25 minutes. The edges should be a beautiful golden brown and the cabbage should be nicely tender.
Can I make this ahead of time?
I enjoy this most fresh out of the oven because the crispy edges are my favorite part. After it has been stored in the fridge, you'll lose a lot of this crispiness. However, if you reheat this in the air fryer, you can get some of that crispiness back without completely overcooking the cabbage.
If you'd like to meal prep this but cook it fresh, you can easily cut and season the wedges, then store them in the fridge until ready to cook. I would not leave them in the fridge longer than a day or two as the cut pieces can dry out or brown a little over time.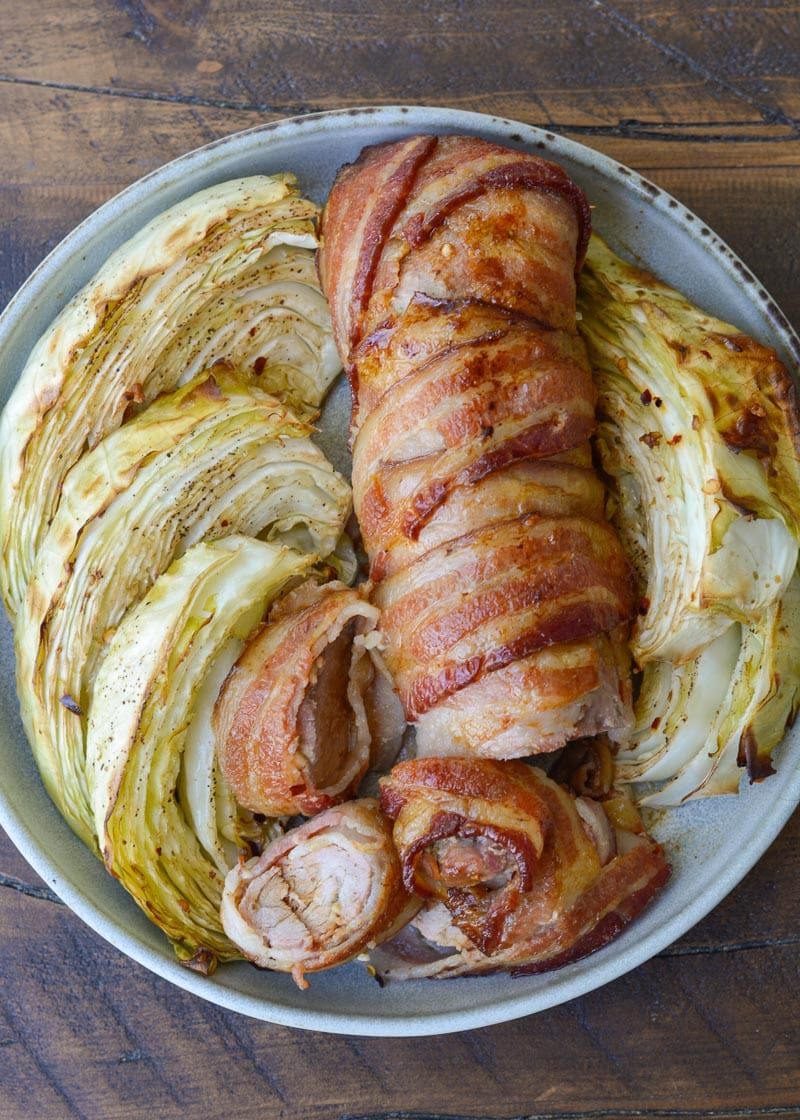 How to Store & Reheat Roasted Cabbage Steaks
Once cooked, allow the roasted cabbage to completely cool before storing in an airtight container in the fridge. It will last up to 5 days in the fridge, but you can extend the life of the cabbage by freezing it up to 3-6 months. When freezing, it's best to tightly wrap with foil or plastic wrap before storing in a freezer bag.
When reheating, there are several ways to warm up your cabbage. You can microwave it if you prefer soft cabbage, but here are the best ways to enjoy crispy edges:
Air Fryer: 400 degrees F for about 3 minutes
Oven: 450 degrees F 5-8 minutes (reheating on a rack in a pan might result in crispier edges)
Skillet: Medium high heat, about 2 minutes per side.
If you have frozen the cabbage, make sure to allow it to thaw before reheating. Keep in mind that there will be a lot of extra moisture after freezing, so you may not be able to get super crispy edges when reheating previously frozen cabbage.
What to Serve with Roasted Cabbage Wedges
I absolutely LOVED this roasted cabbage with the Bacon Wrapped Pork Tenderloin (as pictured above), but you could serve this with many different types of dishes! Consider serving with a Spinach Stuffed Chicken for a great keto-friendly dinner, just 6.5 net carbs total. For a super kid-friendly meal, this would be fantastic with Oven Baked Chicken Tenders and Cheesy Cauliflower Casserole… And you'd still stay under 10 net carbs!
For a classic low-carb meal, how about a perfectly cooked Thick-Cut Pork Chop and a Cheddar Garlic Keto Biscuit? Top it all off with a great keto cocktail like this sugar-free Rosemary Gin Fizz!
More Keto Side Dish Recipes
More Cabbage Recipes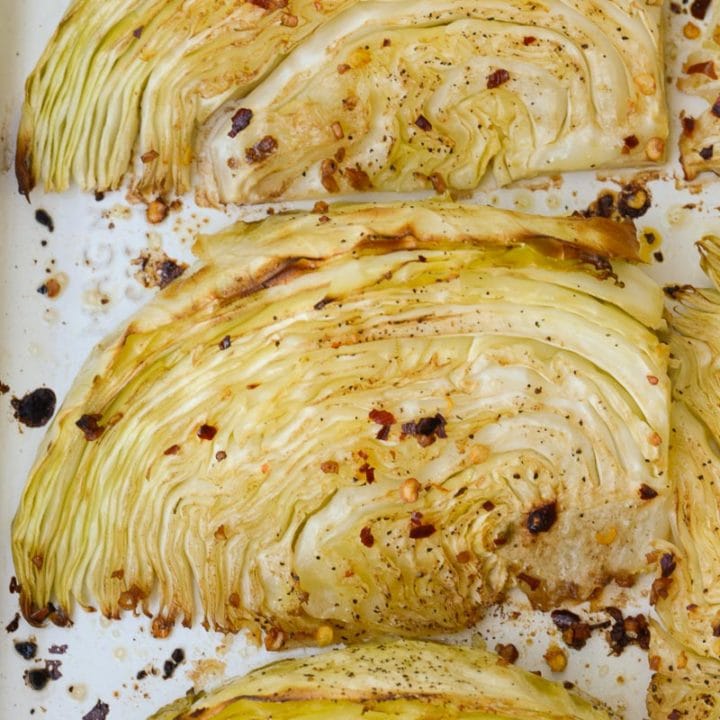 Roasted Cabbage (keto + low carb)
This Roasted Cabbage is the perfect healthy side dish! Ready in 30 minutes, requires very little effort and cleanup, and has under 4 net carbs per serving!
Ingredients
1/2 medium head of cabbage, cut into 6 wedges
2 tablespoon olive oil
1 teaspoon worcestershire sauce
1 teaspoon minced garlic
salt and pepper to taste
crushed red pepper flakes (optional)
Instructions
Preheat the oven to 450 degrees F.
Slice half of a head of cabbage into 6 wedges
Lightly spray a casserole dish or rimmed baking sheet.
Combine the olive oil, worcestershire sauce and minced garlic. Brush generously onto the cabbage wedges.
Season with salt and pepper to taste.
Roast the cabbage 20-25 minutes until the edges are golden brown and it has reached your desired tenderness.
Notes
This recipe can be easily doubled.
Recommended Products
As an Amazon Associate and member of other affiliate programs, I earn from qualifying purchases.
Nutrition Information:
Yield:

6
Serving Size:

Nutrition calculated per cabbage wedge
Amount Per Serving:
Calories:

67
Total Fat:

4.8g
Sodium:

28mg
Carbohydrates:

6.2g
Net Carbohydrates:

3.6g
Fiber:

2.6g
Sugar:

3.4g
Protein:

1.3g