Your entire family will love these Crock Pot Chicken Tacos! Easy shredded chicken is combined with cheese, layered in a tortilla and baked to perfection!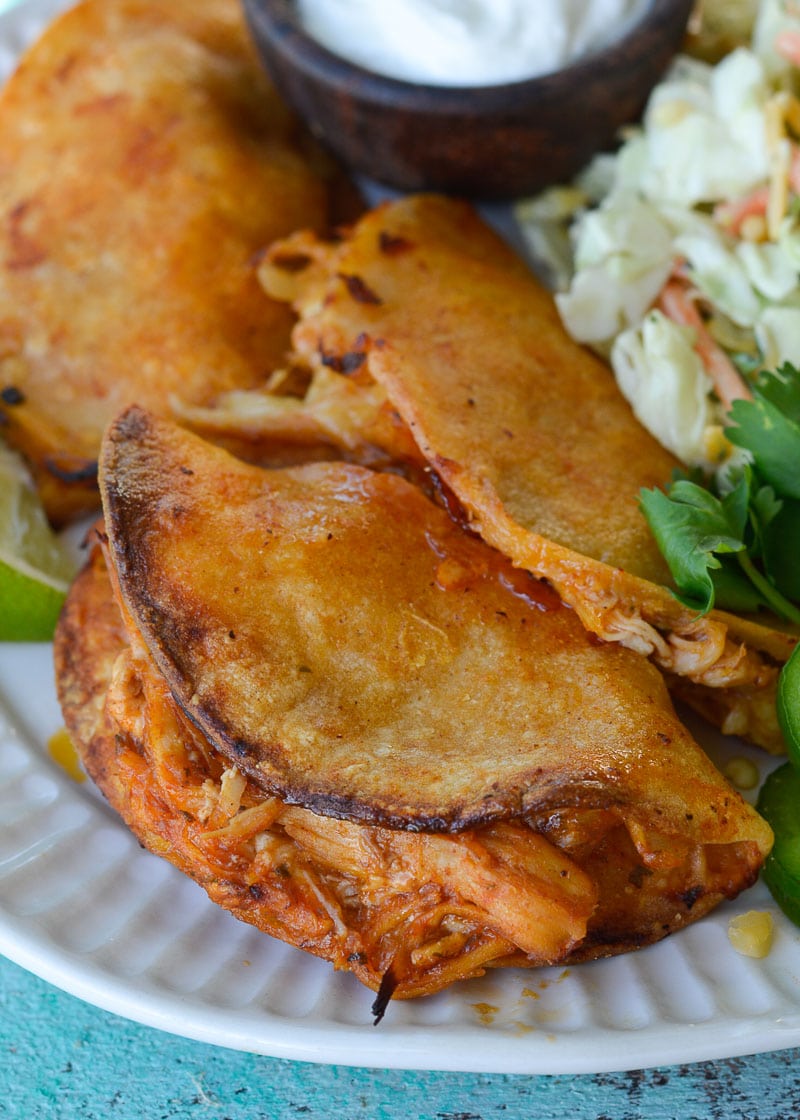 Crock Pot Chicken Tacos
We've been on a real Mexican kick in our house lately. I just can't get enough! Whether it's a Burrito Bowl, Shrimp con Queso, Air Fryer Nachos or Taco Pizza, it's always SO good. But I don't always have the time to make these wonderful dinners! There are some days when I need to walk in the house and find that supper has been prepared for me. So that's when I turned to my trusty slow cooker and made these amazing Crock Pot Chicken Tacos!
You will love these shredded chicken tacos. The slow cooker chicken is full of flavor from the garlic, enchilada sauce and taco seasoning. Combine that with the melty cheddar cheese and your favorite tortilla and bake for 10 minutes! The result is a tender, spicy chicken and melty cheese with a perfectly crispy taco shell. These will give your favorite restaurant a serious run for their money! There's also almost zero prep work for this recipe and very little clean up. You really can't ask for a better weeknight meal!
Shredded Chicken Tacos
These baked chicken tacos taste just like the fried version, but without all of the extra oil. They are also easy to customize for each member of the family- set out a fun taco bar and let everyone choose what their filling consists of! This easy dinner recipe is a super simple and fun way to get the whole family involved with cooking.
You can set your crock pot chicken to start cooking in the morning and come home to find that 90% of dinner is already made! This recipe also makes a large serving, so you could easily make it for when you're entertaining or snack on the leftovers all week!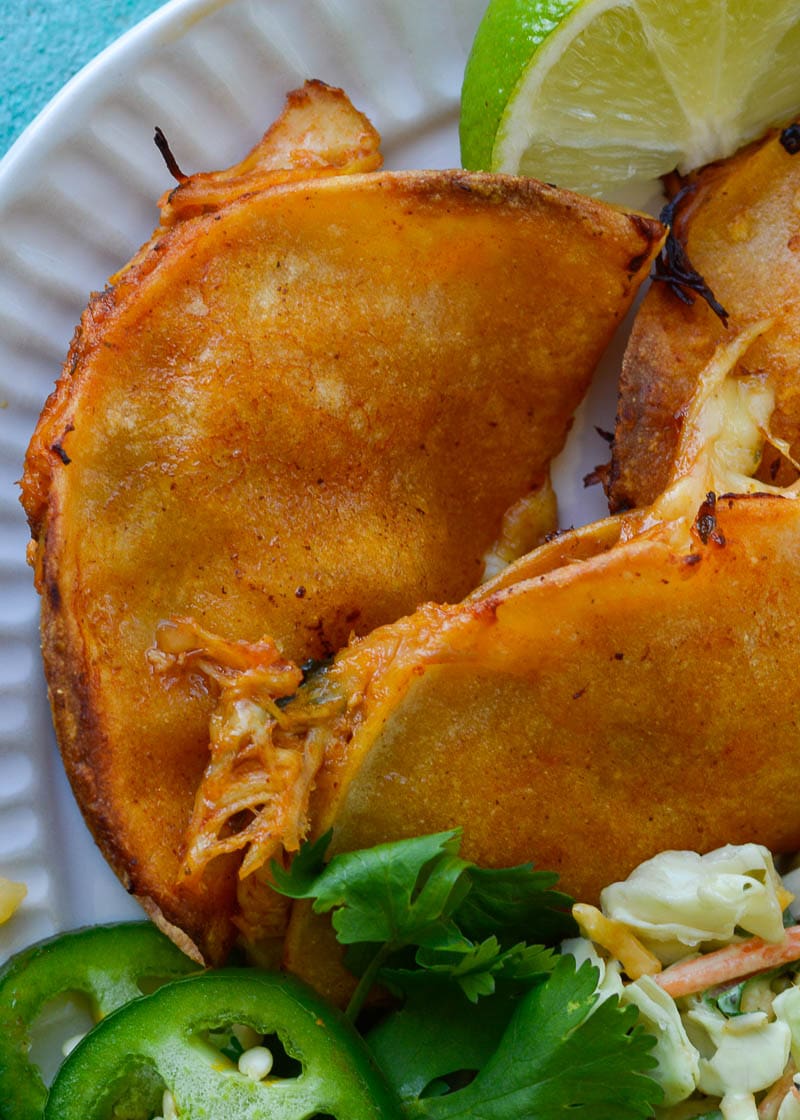 Ingredients in Shredded Chicken Tacos
As always, here is a quick overview of the ingredients used in our baked chicken tacos. For the complete recipe, just scroll to the bottom of the page.
For the Crock Pot Salsa Chicken
Chicken breast- fresh or frozen
Onion and garlic
Taco seasoning, Enchilada sauce, and Salsa
For the tacos:
Tortillas- I used street taco size, but you can use flour, corn or low carb in any size you prefer
Enchilada sauce, Spray oil, and shredded cheese
How do I make this shredded chicken for tacos?
This easy shredded chicken recipe is a true set it and forget it meal. Add your chicken, onion, garlic, taco seasoning, enchilada sauce and salsa to a greased slow cooker. Cook for 8 hours on low or 4 hours on high. When your chicken is fully cooked, shred and place back in the slow cooker to coat in the sauce. That's it! To make things even easier, you can shred the chicken using a hand mixer!
Baked Chicken Tacos
Now, onto the tacos! To make these tacos, preheat your oven to 425 and place your tortillas on a large baking sheet. Add some enchilada sauce and spray with oil. Flip the tortillas over so that the enchilada and oil side is facing downward and bake for 3 minutes. Remove from the oven and add your cheese and chicken to one half of the tortilla and then fold over.
You'll want to do this fairly quickly- the tortilla will set if it's allowed to cool for too long. Add back to the oven and bake for 5-6 more minutes, then flip. Bake for an additional 5 minutes, if wanted. We prefer crispy tortillas in our house, but if you prefer a softer texture then you will not need to cook for quite as long.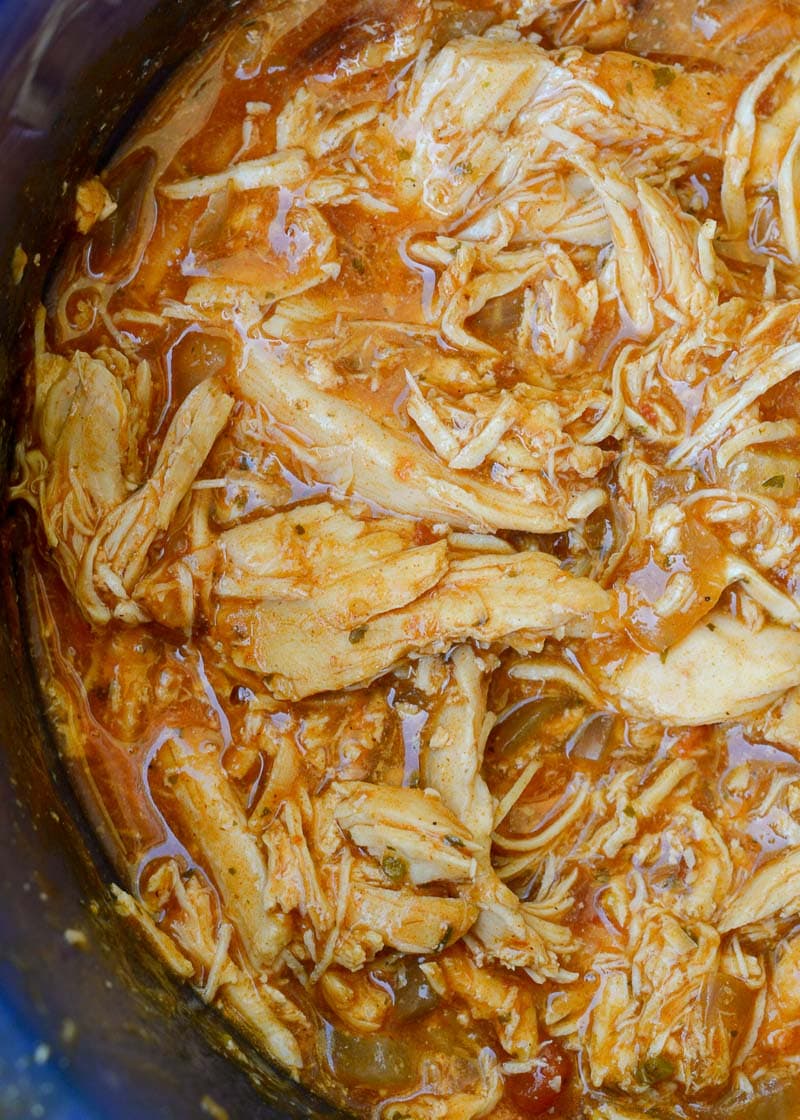 Ideas for leftover chicken
This recipe makes a large batch of chicken, so you can use the leftovers in many ways! Use it to pack a lunch or for meal prep. It can also be used in burritos, Chicken Taco Soup, in a Chicken Burrito Bowl, or Chicken Enchilada Soup! Are you looking for more fun ways to bring the family together at the dinner table? Try this Chicken Taco Board for an easy dinner that everyone can assemble themselves!
What should I serve with these Chicken Tacos in the Crock Pot?
These tacos are made for sides! Try guacamole, Jalapeno Ranch Dip, Seasoned Black Beans, Avocado Bacon Dip or Slow Cooker Bean Dip! If you're low carb, try Cilantro Lime Cauliflower Rice or Zucchini Tortillas for a great alternative. Enjoy this meal with a cocktail! Grab a pitcher and make a batch of these Keto Margaritas, Spicy Watermelon Margarita or a Mango Margarita!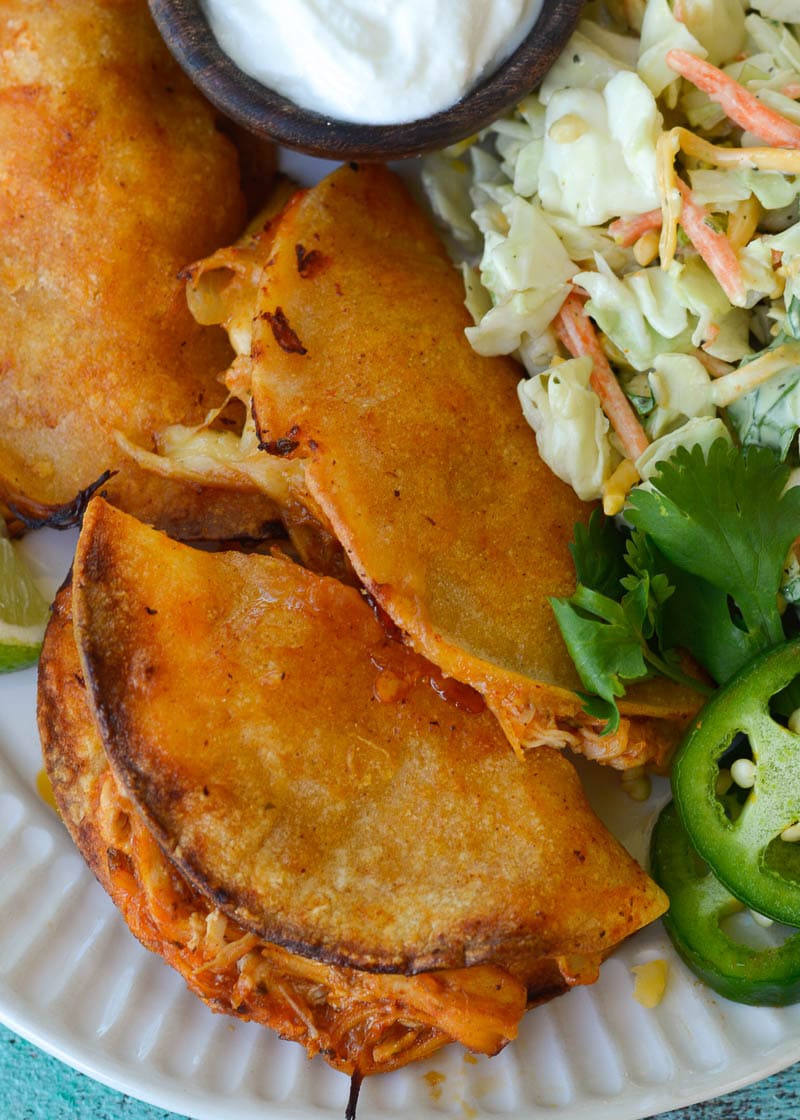 More easy Mexican recipes
More Crock Pot recipes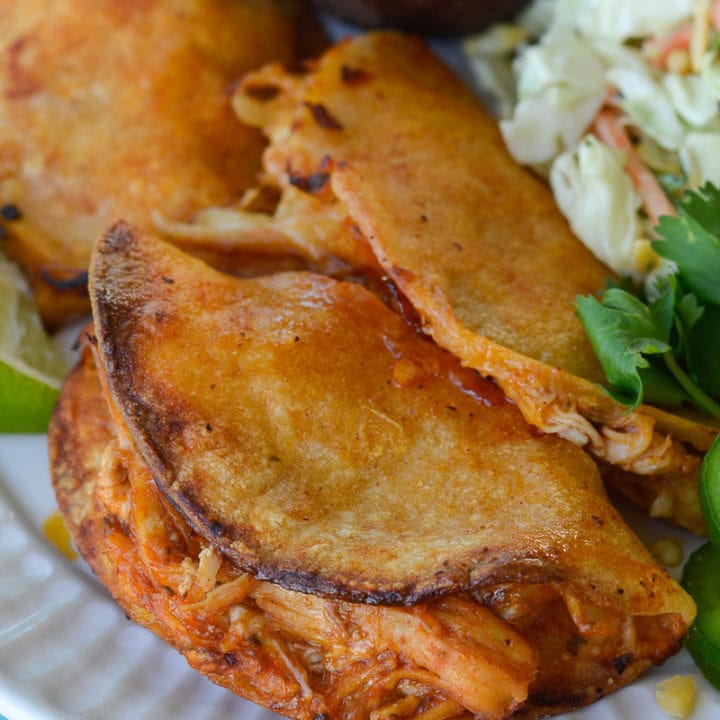 Crock Pot Chicken Tacos
Total Time:
4 hours
10 minutes
Your entire family will love these Crock Pot Chicken Tacos! Easy shredded chicken is combined with cheese, layered in a tortilla and baked to perfection!
Ingredients
Chicken Taco Filling
2 pounds chicken breast
1 cup onion
2 minced garlic cloves
1 (1 ounce) package taco seasoning
1 cup enchilada sauce (if using a 10 ounce can of enchilada sauce you need the remaining 2 ounces for the shells so reserve)
1 cup salsa
For the Tacos
24 Street Taco size tortillas (corn, flour or low carb)
1/4 cup enchilada sauce
Olive oil spray
2 cups shredded cheddar cheese
Instructions
Spray the bottom of a slow cooker with cooking oil. Place the chicken, onion, garlic, taco seasoning, enchilada sauce and salsa in a slow cooker. Place the lid on the slow cooker and cook on low for up to 8 hours, or high for 4 hours.
When cooked through remove the chicken from the slow cooker and shred. Add back to the slow cooker and toss to coat.
To make the tacos: preheat the oven to 425 degrees F. Lay the tortillas on a large baking sheet and lightly brush with the enchilada sauce and spray with the cooking oil. Flip the tortillas (oil and enchilada side down) pop in the oven for 3 minutes.
Remove the tortillas from the oven and working quickly evenly spread the cheese and chicken on one side of the tortilla and fold over. Place the tacos back in the oven and bake 5-6 minutes, flip and bake an additional 5 minutes if needed. (Remember, bake these how YOU like them. We love crispy tortillas, if you want a softer texture they will not need to cook as long.)
Nutrition Information:
Yield:

24
Serving Size:

Nutrition Calculated Per Mini Taco
Amount Per Serving:
Calories:

129
Total Fat:

6g
Cholesterol:

36mg
Sodium:

380mg
Carbohydrates:

11g
Net Carbohydrates:

2.3g
Fiber:

8.7g
Sugar:

0.7g
Protein:

12.9g