This Healthy Chickpea Salad is packed with chopped cucumbers, cherry tomatoes, chickpeas, feta and tossed in a simple lemon vinaigrette.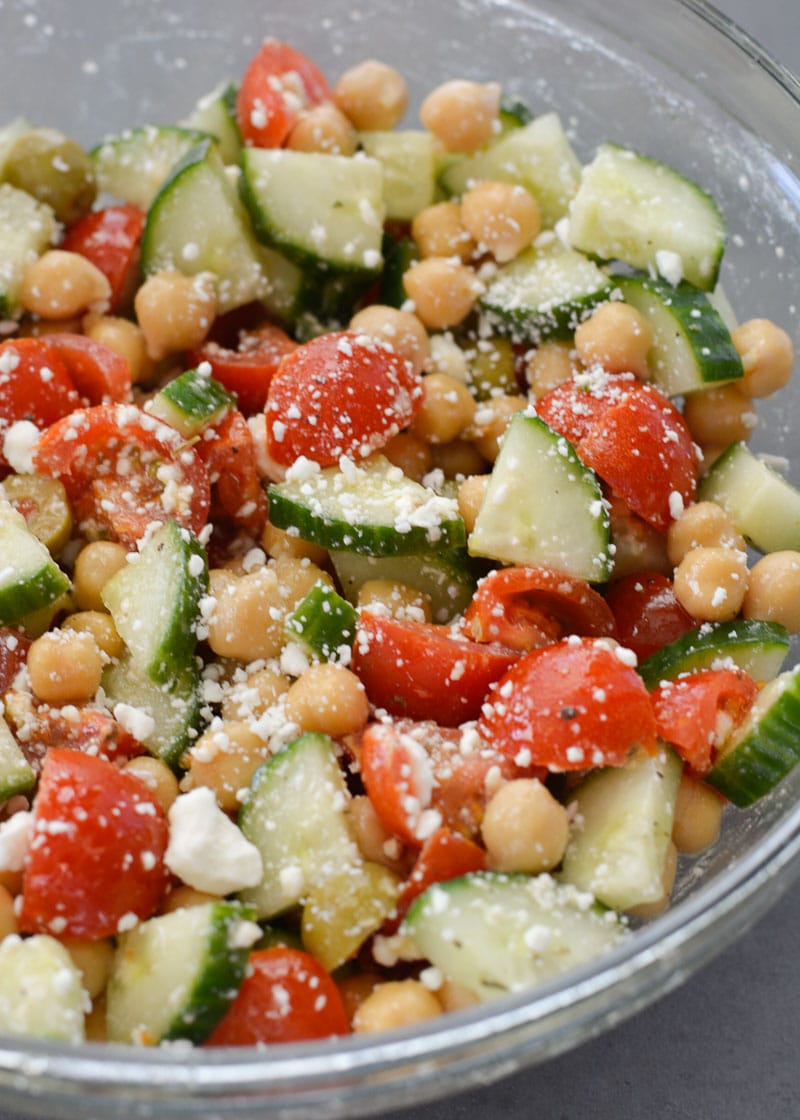 Are you ready for a refreshing, healthy salad recipe? I have always loved a good salad, but I especially love the less traditional salads that don't just feature your run of the mill vegetables. This dish requires no cooking, and very little prep work. It is a protein packed salad thanks to the chickpeas, which helps keep you full longer!
This salad stores well making it a great meal prep option. It also serves as a perfect side for my favorite Lemon Chicken. No matter how you choose to enjoy this easy cucumber salad, I know you will love it as much as I do!
Ingredients for Chickpea Salad
Chickpeas, drained and rinsed
Cucumber
Cherry tomatoes
Olives
Feta Cheese
Lemon Vinaigrette Ingredients: olive oil, lemon juice, garlic, Italian seasoning, salt and pepper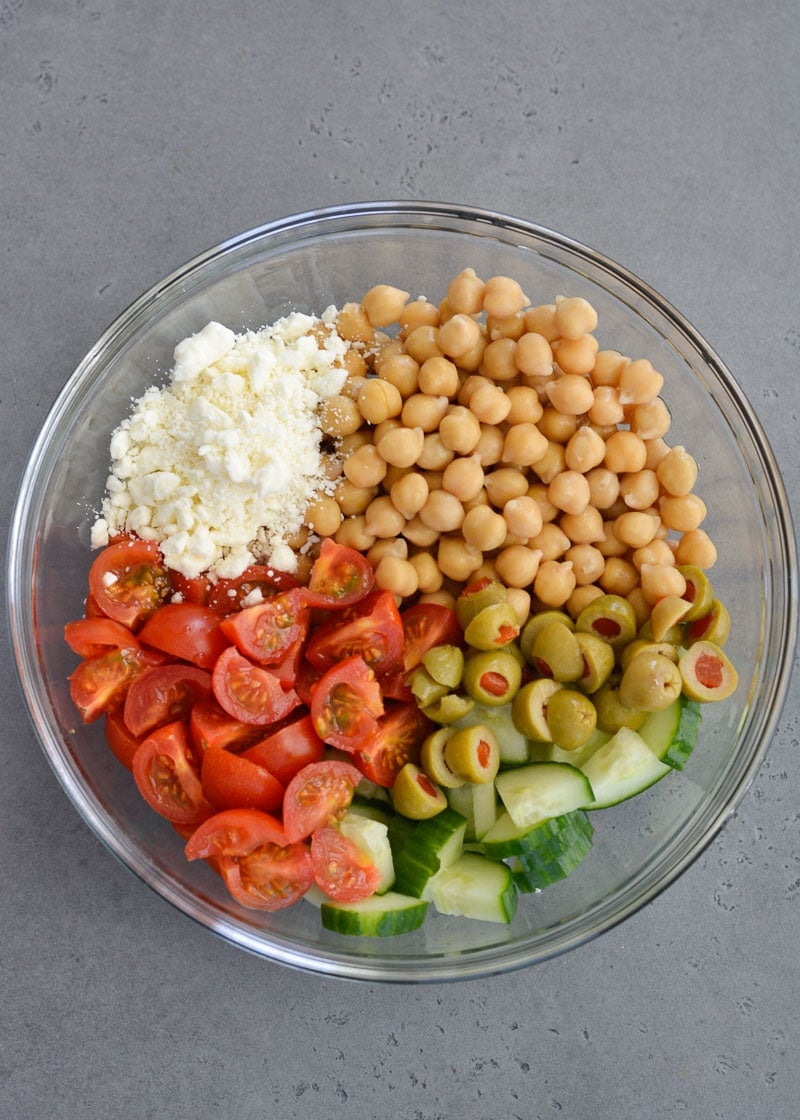 How do you make Greek Salad?
In a jar with a screw top combine the olive oil, lemon juice, garlic and Italian seasoning. Shake until the ingredients are combined.

Add the cucumber, chickpeas, tomatoes, olives and feta in a bowl. Pour the dressing over and toss to coat. Add salt and pepper to taste.
How do you make this salad for meal prep?
Traditional lettuce based salads can be pretty difficult to meal prep without special equipment like a vacuum sealer. Chopped greens mixed with other vegetables, such as tomatoes can make for a soggy dish later on. However, this chickpea salad is ideal for meal prep!
Simply prepare your salad and dressing separately, pouring over the dressing when you're ready to eat. Salad should last 3 days in the refrigerator if stored with care. Alternatively, you can prepare it completely in advance and keep chilled. While the flavor is great with this option, the olive oil in the dressing because solid instead of liquid, so keep this in mind.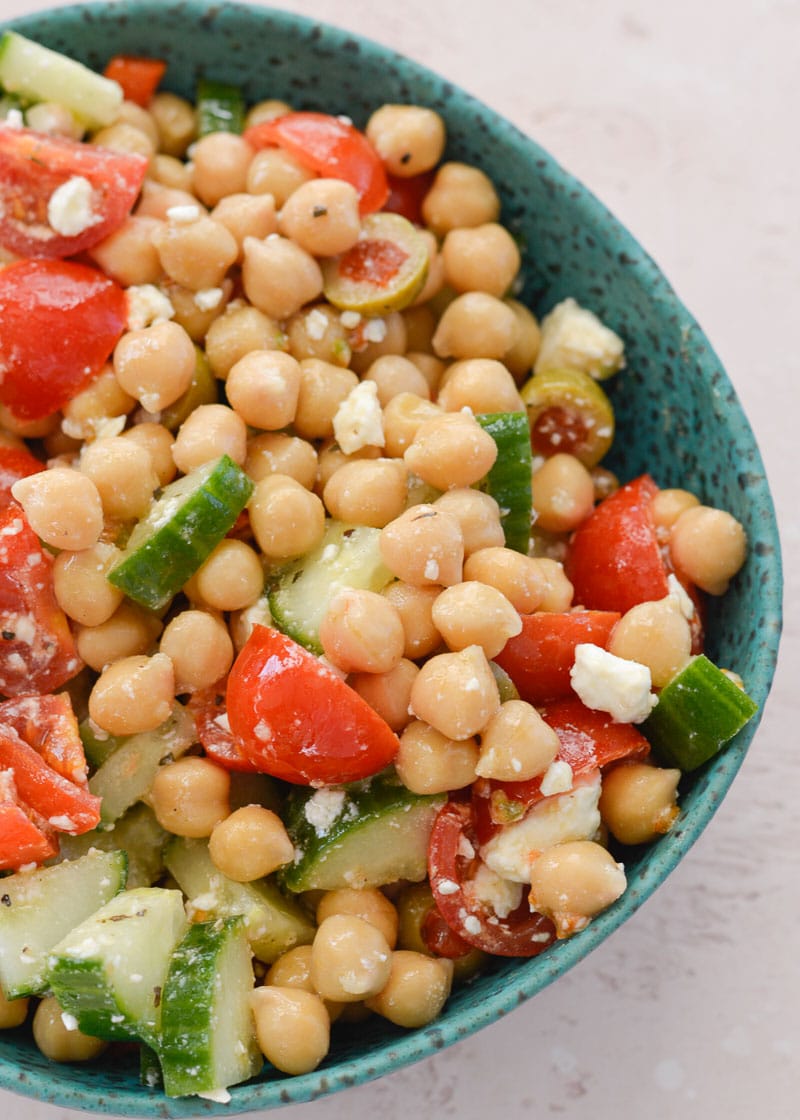 Other Vegetarian Dishes
You may be a vegetarian, or just seeking some new and creative meat free options. It can be tricky to find filling meat-free meals sometimes, but I've got you covered. One of my favorite recipes is this Grilled Hummus Zucchini Wrap. A tortilla (gluten free, regular or low carb all work well) is stuffed with flavorful grilled zucchini, tomatoes, kale and other vegetables. And spread with creamy, tangy hummus. It is truly perfect! Some other ideas include:
Other Easy Salad Recipes