Fresh veggies are grilled to perfection and packed in this healthy Hummus Wrap! This is the perfect easy, healthy wrap recipe!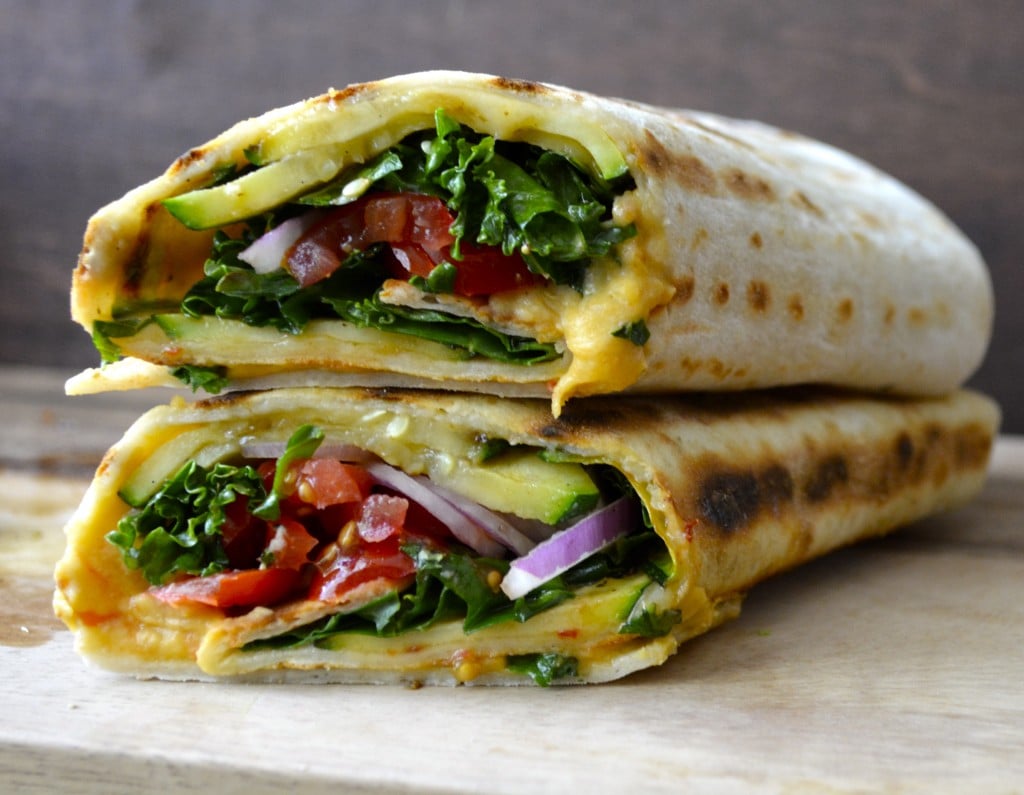 This hummus veggie wrap is packed with grilled zucchini, veggies, cheese and hummus! It is my version of Jason's Deli Zucchini Grillini, and it is great and so simple!
For this recipe, sliced zucchini is tossed in olive oil and sprinkled with salt and pepper then grilled. The grilled zucchini is then placed on a nice big tortilla topped with kale, red onion, tomatoes, cheese, and then a heaping dose of hummus. The flavors pair so perfectly together, the grilled zucchini is a little tender and helps to melt the cheese, the cool hummus and the crisp kale all work so well together.
One of my favorite things about this is how versatile it is. You can change up the veggies based on your personal preferences. Don't have kale? No big deal, just throw in some spinach! Just use whatever fresh summer produce you have on hand!
Just be sure not to skimp on the hummus. It is what makes the whole wrap come together so nicely.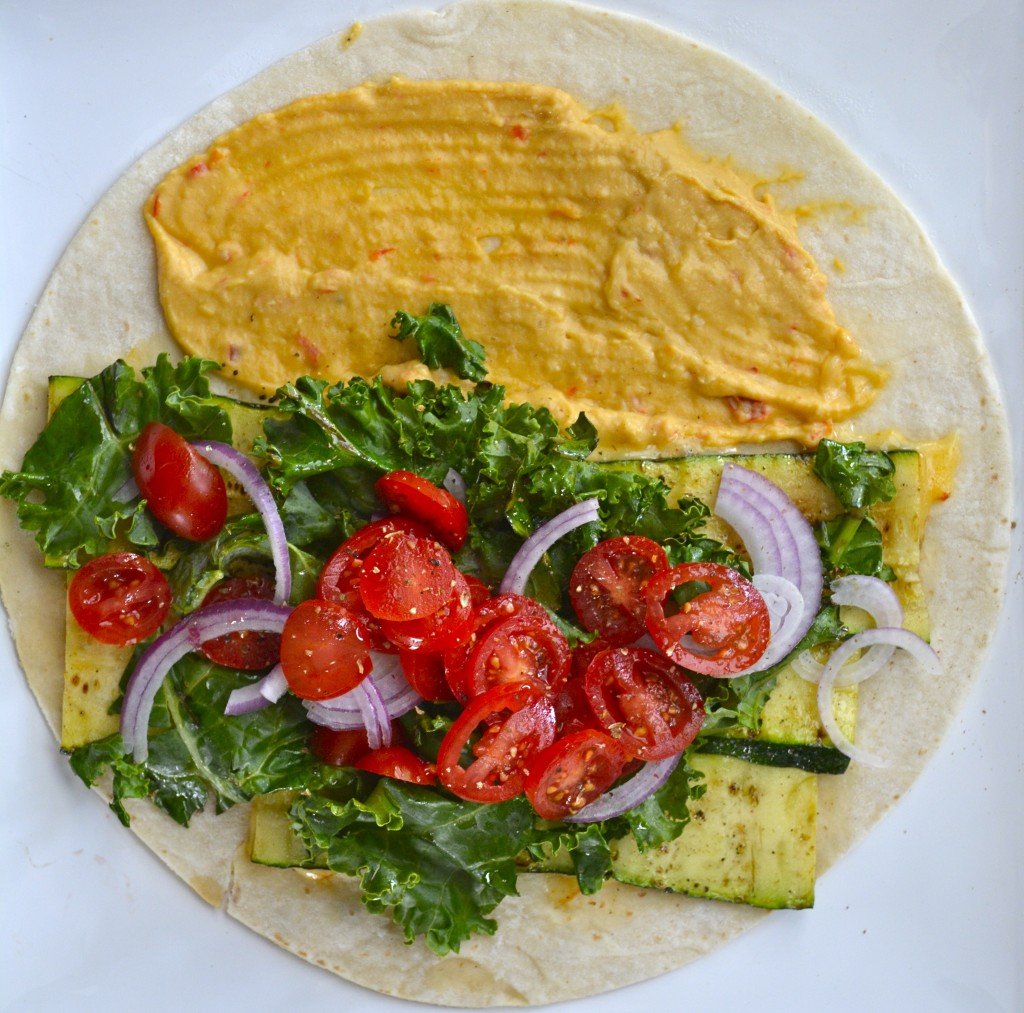 Ingredients for a Hummus Wrap
This simple vegetarian wrap has a handful of basic ingredients. This is the kind of meal that you can prepare in just a few minutes on a busy night or have for a quick lunch. Also, depending on the type of cheese and hummus you use you can switch up the flavors from time to time with little effort.
Here's what I used in this hummus veggie wrap recipe:
Zucchini
Tomatoes
Red onion
Kale
Cheese (I like white cheddar or chipotle gouda cheese)
Tortillas (I use a gluten free tortilla)
Hummus
How to Make a Hummus Wrap
This healthy tortilla wrap takes less than 15 minutes to prep. Here are the basic steps to making it:
Heat a skillet or grill to medium heat.
Remove the ends from the zucchini and slice lengthwise into strips.
Toss sliced zucchini in olive oil and sprinkle with salt and pepper.
Place sliced zucchini directly on grill and cook until tender.
Place the tortillas on grill until grill marks are visible and tortillas are pliable.
Remove tortillas from grill and assemble wraps, 2 tablespoons of hummus, one slice of cheese, zucchini slices, 1/2 cup kale, onion and tomato slices.
Wrap tightly and enjoy immediately.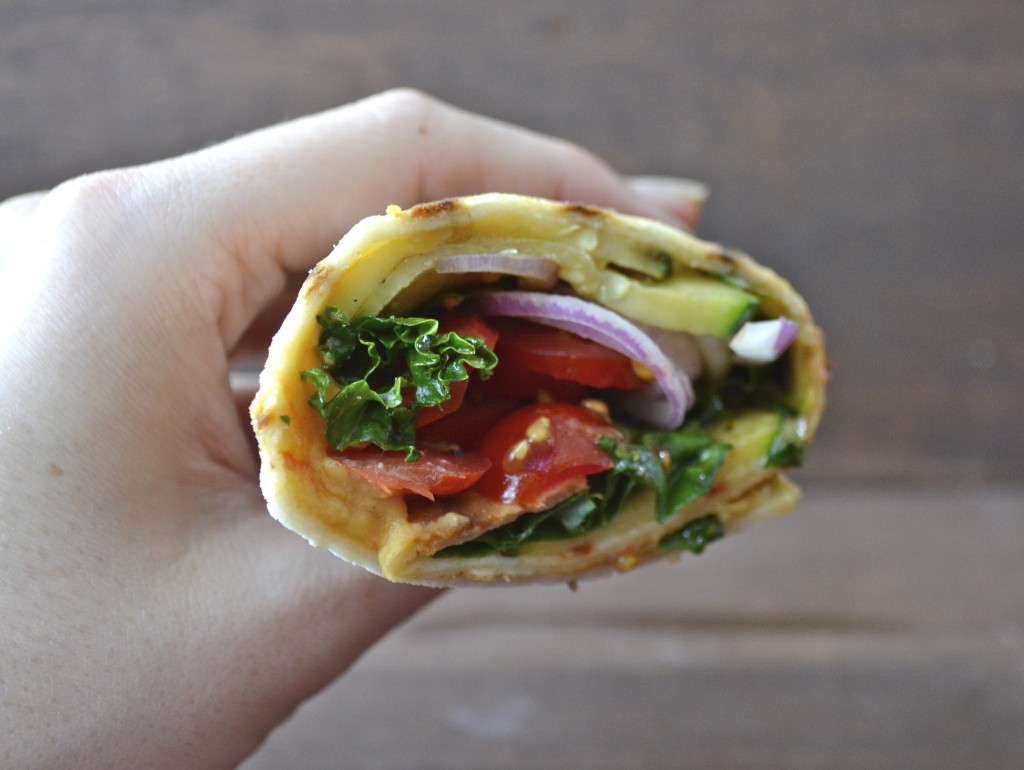 How Can I Make This a Low-Carb Meal?
If you want to cut back on your carb intake, I recommend buying low-carb tortillas or making your own zucchini keto tortillas.
Tips for Making a Healthy Wrap
I used a grill pan to cook the zucchini, but you can sauté it in a skillet if that's better for you.
I like to use a classic hummus, but you can make your own or use whatever flavor you like most.
Be sure to grill the tortillas before assembling the wraps, otherwise they might split. The heat from the grill makes the tortillas pliable!
More Healthy Wrap Recipes:
This site contains affiliate links, meaning that if you make a purchase through them, we will receive a small commission.
SaveSave