This Chicken Caesar Wrap is packed with juicy chicken, tangy Caesar dressing, tomatoes, lettuce, and two types of cheese. This healthy lunch recipe can be meal prepped and made low-carb, or gluten free, too!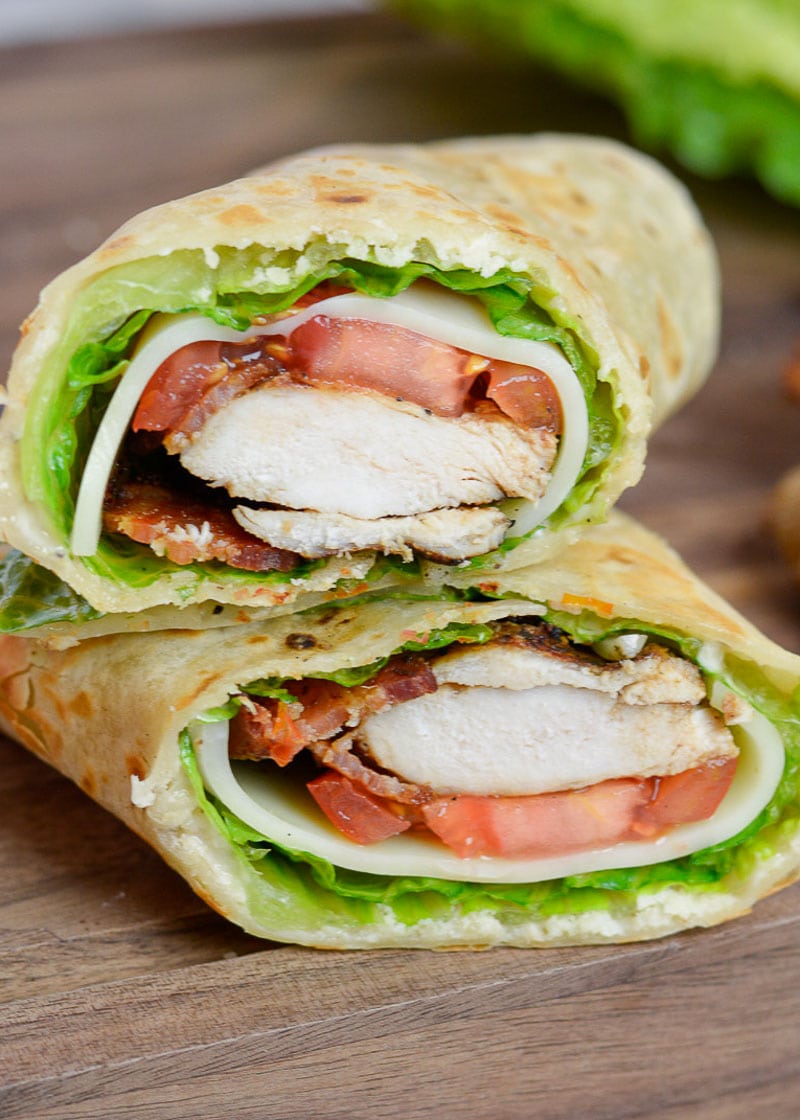 Chicken Caesar Wrap
This Chicken Caesar Wrap gives you the best of both worlds — You get the delicious flavor of a Caesar salad with all the convenience of a wrap! Forget the fork and enjoy your salad rolled up in a tasty tortilla.
These wraps are so easy to customize for your preferences and needs, too. If your average tortilla doesn't work for you, you can instead use a low-carb, gluten-free, or flavored tortilla instead. Using a cheese wrap or these Keto Zucchini Tortillas can make this grain-free, gluten-free, and low-carb all at once! If you want to skip the wrap and enjoy the ingredients in a more traditional format, try it in this Keto Chaffle Salad Bowl!
What is in a Chicken Caesar Salad Wrap?
Chicken & Bacon — Grilled, rotisserie, or shredded chicken work great. Bacon should be cooked and can be crumbled or whole.
Lettuce & Tomato — Traditional Caesar salad is made using romaine, but you can use your favorite variety.
Parmesan & Swiss Cheese — Parmesan can be grated, shaved, or shredded. I used a slice of swiss cheese, but shredded will work, too.
Caesar Dressing — If you don't like Caesar, you could easily replace this with Ranch, oil & vinegar, or your favorite salad dressing.
Large Tortilla — Can be low carb, gluten free, made from zucchini, or a cheese wrap.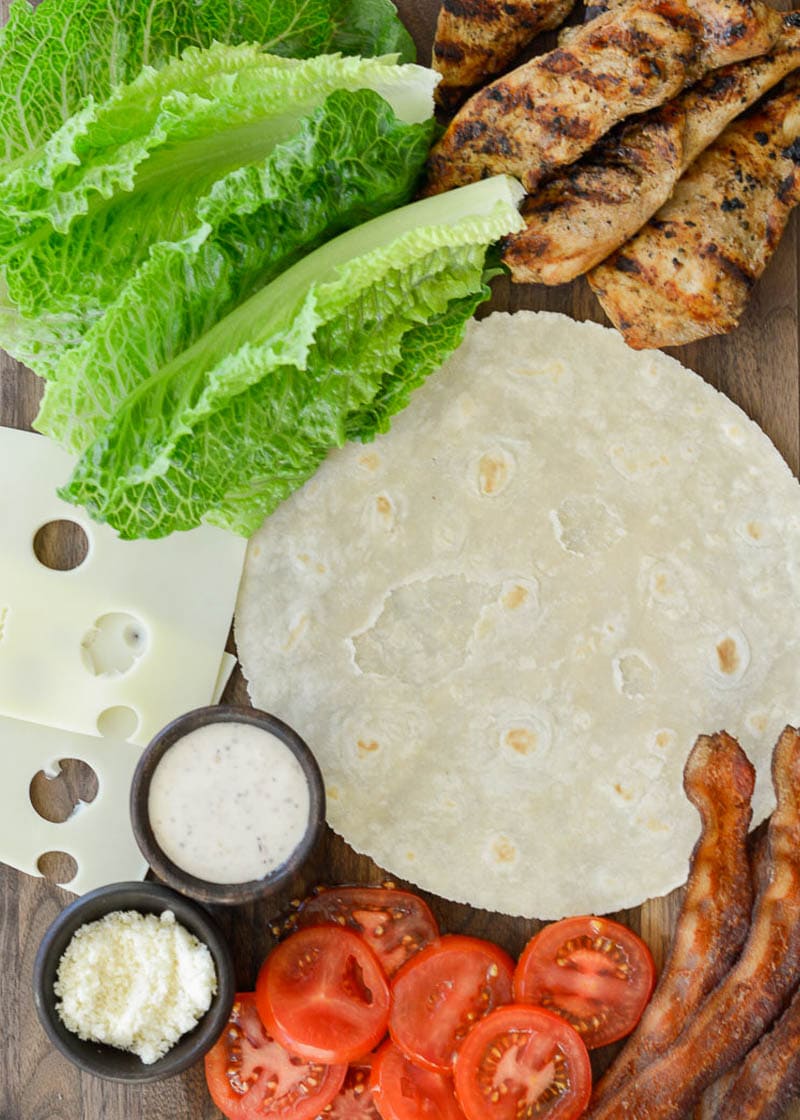 How to Make a Chicken Caesar Wrap
This recipe is super simple and comes together quickly. First, warm the tortilla so that it doesn't tear while you roll it. Next, top the tortilla with slices of lettuce, then salad dressing and parmesan. Add your swiss cheese, chicken, bacon, and tomato. Finally, carefully wrap your tortilla tightly. Secure with a toothpick or wrap with parchment paper or plastic wrap to keep it together.
Can I use another dressing?
If you don't love Caesar dressing, you can easily swap it out with your favorite kind. Replace the dressing with blue cheese dressing, swap the Swiss with some blue cheese crumble, and use iceberg lettuce for a Wedge Salad version! Use a balsamic vinegar dressing, use mozzarella cheese instead of Swiss, and use basil and kale instead of lettuce for a delicious Caprese Salad version. It's really a wrap recipe that can work for anyone!
How to prevent a wrap from falling apart
Whether you are using tortillas, cheese wraps, lettuce, or collard greens, it can be difficult to secure your wrap without tearing it! I've had the most success by making my wraps on a piece of wax paper or parchment paper. When it's time to roll it up, I use the parchment paper or wax paper to pull and roll it together. This prevents you from putting too much stress on the tortilla, keeping it safely holding all your fillings!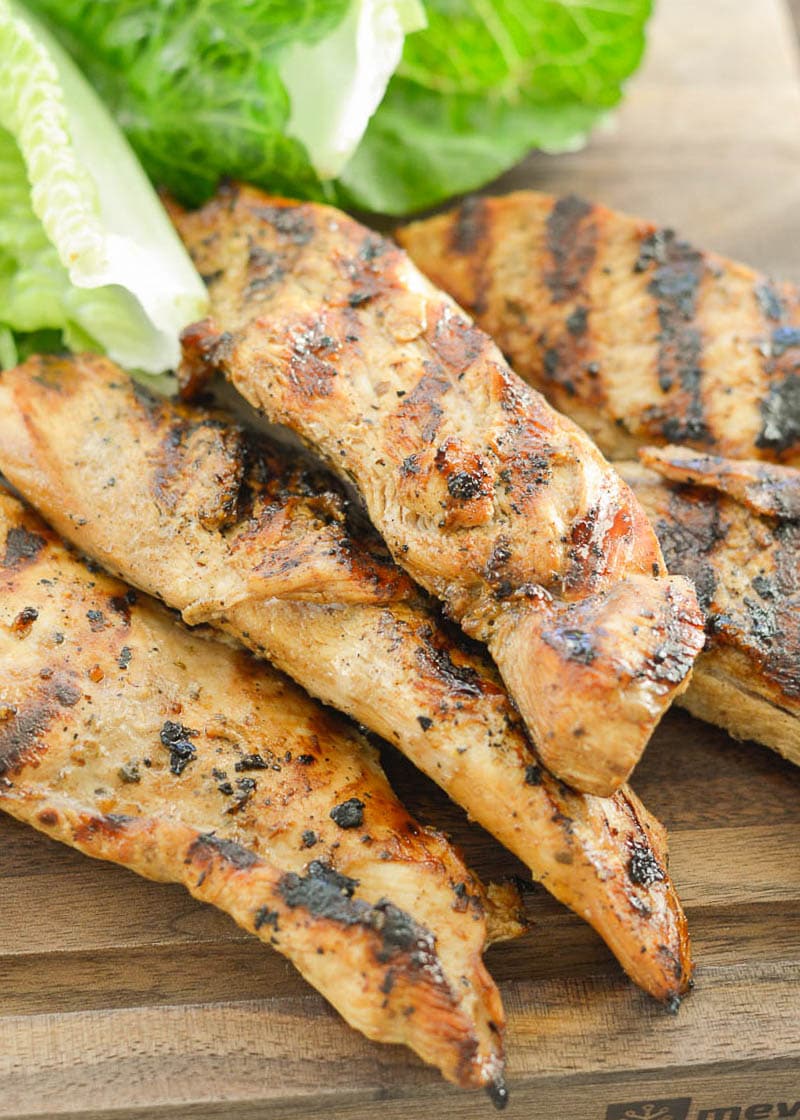 How Many Calories in a Chicken Caesar Wrap
This particular Chicken Caesar Wrap has 494 calories when using a Mission Carb Balance tortilla. The highest-calorie ingredients are the Swiss cheese, bacon, and Caesar dressing, so feel free to reduce those a bit if you prefer a lower-calorie lunch. If you cut the Swiss cheese and bacon in half, it brings this wrap just under 400 calories.
How to make a wrap keto
This wrap with your average tortilla is not keto-friendly or low-carb. However, we can easily fix that! Using a Mission Carb Balance tortilla reduces the net carbs to 7.9 (24.7 total carbs, 16.8 grams fiber). To reduce them even more, you can use a cheese wrap instead of tortilla to bring it to 4.9 net carbs (6.7 total carbs, 1.8 grams fiber). If you leave out the wrap entirely and instead use the lettuce leaves to hold the filling together, it comes to just 3.9 net carbs (5.7 total carbs, 1.8 grams fiber).
If you are looking for a low-carb, gluten-free, grain-free tortilla, try these Zucchini Keto Tortillas! They are just 1.2 or 2.4 net carbs, depending on if you want them small or large. These would be great for this Caesar wrap!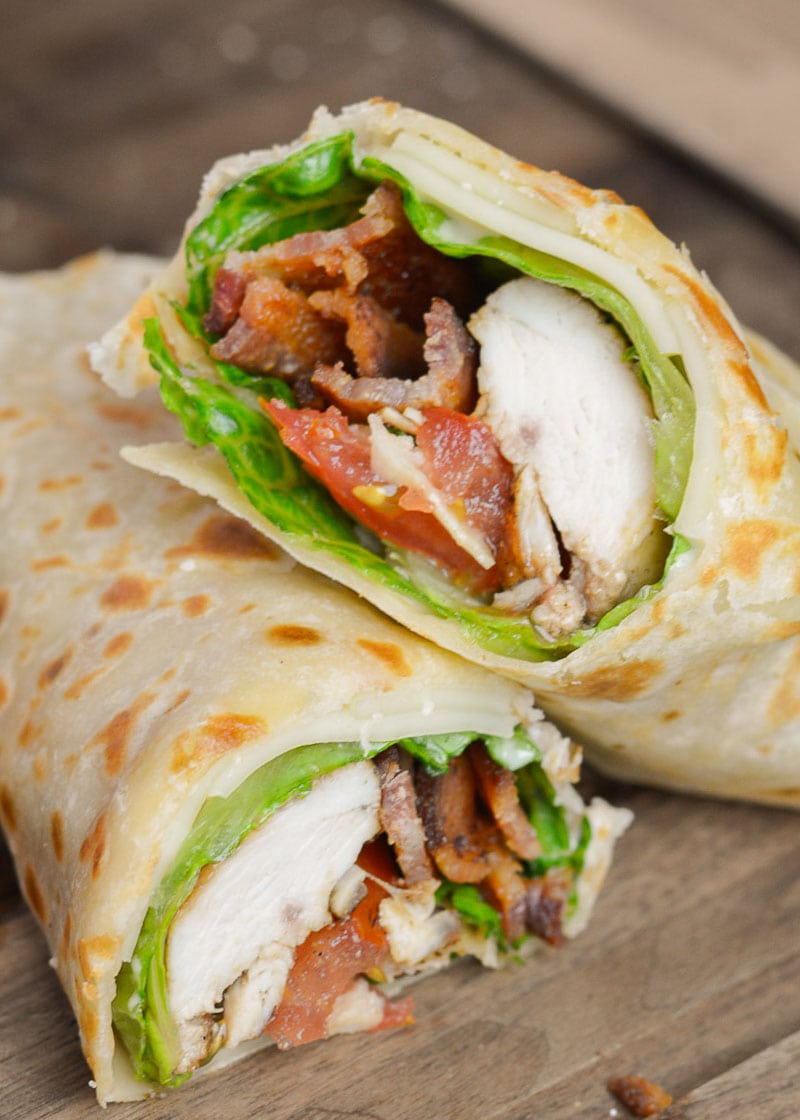 How to store a Caesar Salad Wrap
When I'm making these ahead of time, I like to immediately wrap these in plastic wrap to help keep everything fresh and held together. These keep well in the fridge up to 4 days, but the lettuce does get softer the longer you wait. Try to make sure the dressing doesn't get on the tortilla too much as it can make the tortilla soggy.
Is this good for meal prep?
Yes and no. This is fantastic if you're making your lunches for the next few days — It'll keep up to 4 days wrapped in plastic wrap or beeswax paper in the fridge. If you are using lettuce instead of a cheese wrap or tortilla, I would try to make these no more than 1 day ahead of time. This just keeps the lettuce fresh and strong enough to continue holding the ingredients.
What to serve with a Chicken Caesar Wrap?
For a keto-friendly lunchbox meal, pair with Crispy Zucchini Chips or Spinach and Cheese Bites. For a sit-down low-carb dinner, try with Crispy Green Bean Fries, Keto Mozzarella Sticks, or Parmesan Roasted Cauliflower.
If you don't need to stick to a low-carb lunch, these Air Fryer Chickpeas or Homemade Potato Chips are perfect for snacking. If you want heavier side dishes to make it a full dinner, consider adding Air Fryer Tater Tots, Sweet Potato Wedges, or Butternut Squash Macaroni and Cheese.
More Easy Wrap Recipes
Want more? Check out this list of 30+ Easy Healthy Wrap Recipes! Bookmark that page for great lunch ideas that won't get boring!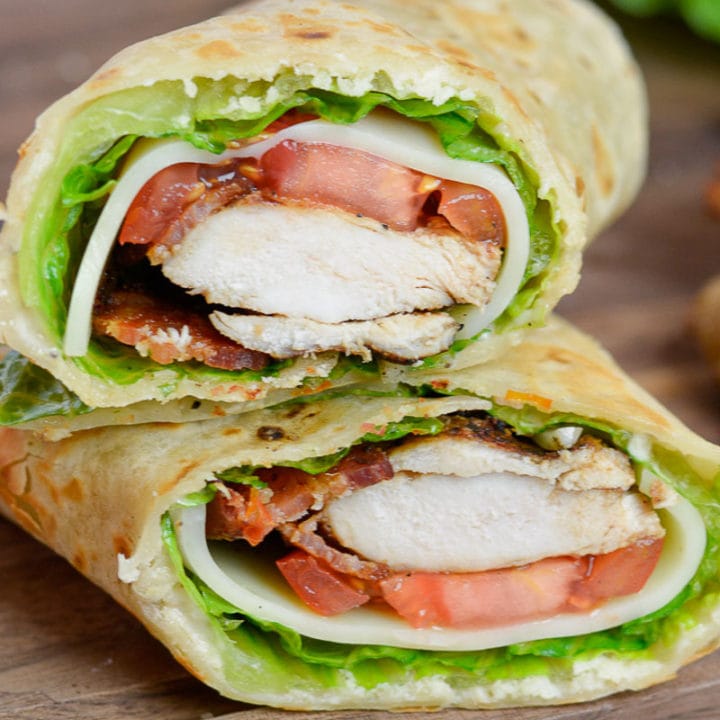 Chicken Caesar Wrap (low carb + keto options)
This Chicken Caesar Wrap is packed with juicy chicken, tangy Caesar dressing, tomatoes, lettuce, and two types of cheese. This healthy lunch can be meal prepped and made low-carb + gluten free, too!
Ingredients
1/2 cup Chicken (I used slices of grilled chicken, but shredded, rotisserie, or other leftover chicken will work fine)
2 slices Bacon, cooked
1 tablespoon Caesar Dressing
1 tablespoon Parmesan (shredded, grated, or shaved work great)
1 slice Swiss cheese
3 Lettuce leaves
2-3 small tomato slices
1 large Tortilla (see notes below)
Instructions
Lightly heat a tortilla in the microwave for 15 seconds or in a lightly greased skillet -- This makes the wrap pliable and less likely to tear.
Spread the dressing over the tortilla, then sprinkle parmesan over it. Top with lettuce, tomatoes, Swiss cheese, chicken, and bacon.
Carefully roll the tortilla tightly (use a piece of wax or parchment paper as the base to help). Slice and enjoy!
Notes
Nutrition Facts below calculated using a Mission Carb Balance tortilla.
For Gluten Free: Use a gluten free tortilla, such as Mission. The Chipotle Mayo I mentioned is gluten free. For low carb + gluten free, use Zucchini Keto Tortillas, cheese wraps, or wrap with lettuce.
For Keto: Use a low carb wrap (most low carb wraps range from 3-5 net carbs) like Mission, cheese wraps, Zucchini Keto Tortillas, or wrap with lettuce.
Nutrition Information:
Yield:

1
Serving Size:

1 wrap (nutrition calculated with Mission Carb Balance tortilla)
Amount Per Serving:
Calories:

424
Total Fat:

31.7g
Cholesterol:

109.2mg
Sodium:

1085.4mg
Carbohydrates:

24.7g
Net Carbohydrates:

7.9g
Fiber:

16.8g
Sugar:

2.1g
Protein:

40g