Learn how to make the best Chicken Quesadilla! This easy chicken recipe features a crispy tortilla loaded with two kinds of cheese, tender chicken, and a savory sauce.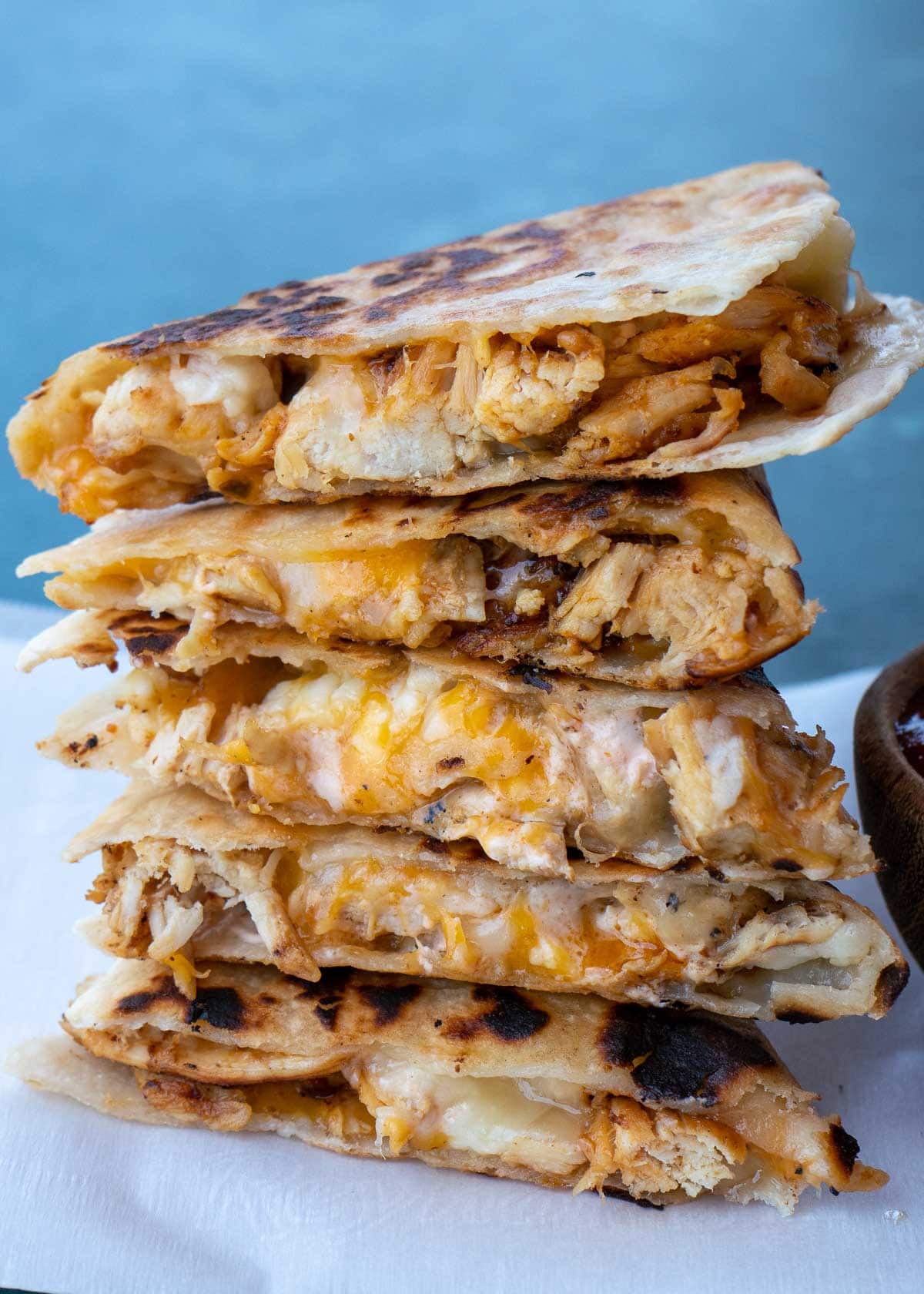 Wraps and quesadillas are staples in our home. Any meal that can come together in a matter of minutes with minimal effort and cleanup is a winner in my book. This quesadilla recipe is especially handy because it is a great way to use up leftover chicken.
This dish is great with grilled, shredded, or leftover roast chicken. You can also make this dish low-carb and gluten-free if you use the correct tortilla. Below you'll find a step by step guide to making the perfect chicken quesadilla that is great for a quick lunch or easy weeknight dinner! If you prefer using the air fryer, here are instructions for the best Air Fryer Quesadilla!
Chicken Quesadilla Ingredients
Here's a quick overview of what you'll need for this recipe. For exact measurements, keep scrolling down to the printable recipe card.
Chicken – You want fully cooked chicken. This can be shredded or sliced. A cheap rotisserie chicken from the grocery store can make a lot of quesadillas quickly and inexpensively!
Cheddar cheese and Queso fresco – Cheddar melts perfectly and gives you the gooey, cheesy texture we love in a quesadilla. Queso fresco adds a great flavor!
Sour cream and hot sauce – These two mix together for a delicious, lightly spicy sauce. This gives the quesadilla loads of flavor, but you can skip this if you prefer.
Flour tortilla – You want a large, burrito-sized tortilla for this quesadilla. You can use a gluten free or low carb tortilla as well.
Butter – This makes the most flavorful and golden brown crust on your quesadilla. If you're out of butter, mayonnaise works very well to crisp up the tortilla and give it color. I used unsalted butter, but you can use salted if you prefer.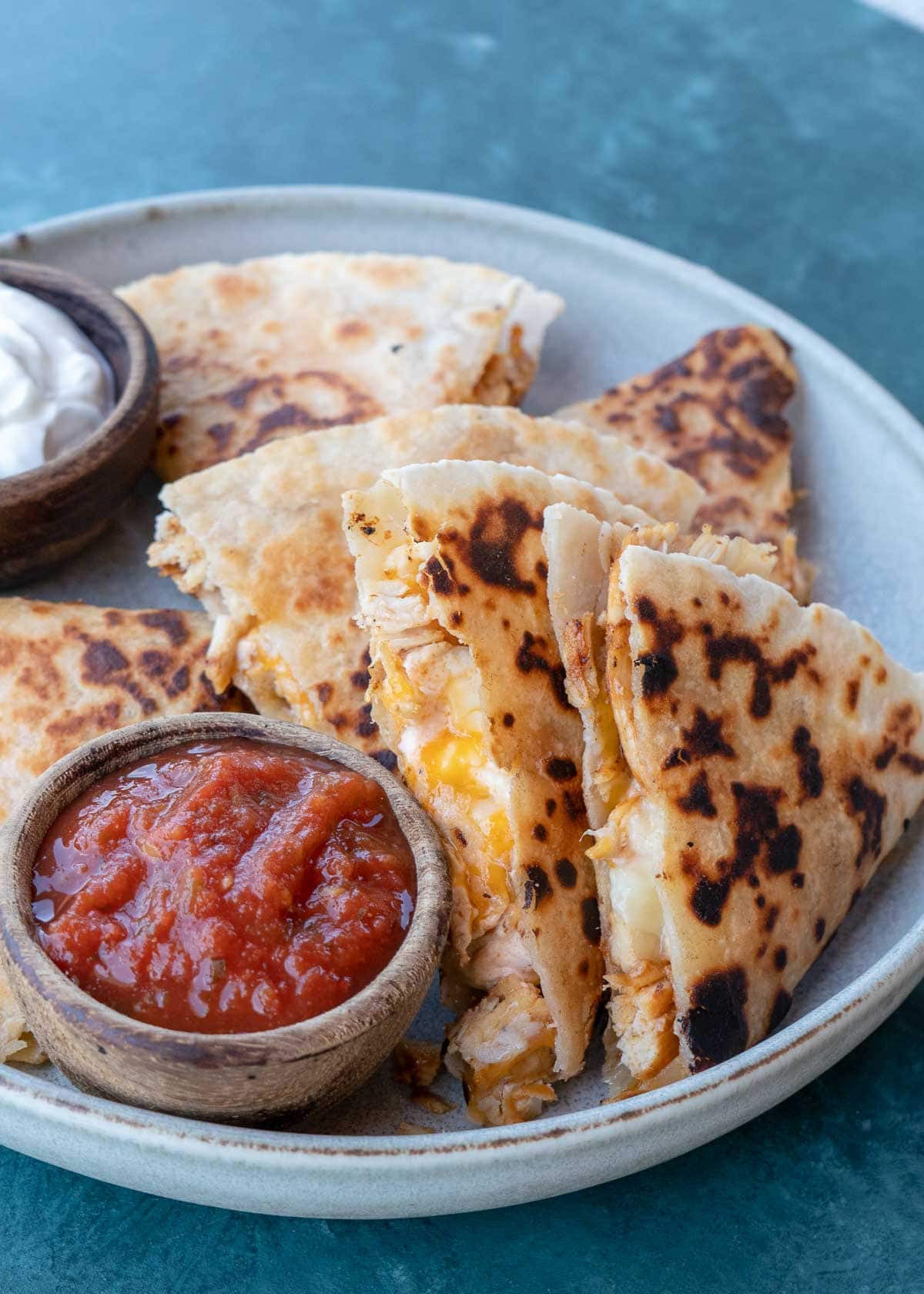 How to Make a Chicken Quesadilla
This is such an easy recipe! Here's a quick step-by-step guide for making this simple, super cheesy quesadilla.
Add chicken & cheese
Heat a skillet to medium heat, then add butter or cooking oil. Once hot, place the tortilla in the skillet. Sprinkle cheese over the entire tortilla. On half, add chicken pieces.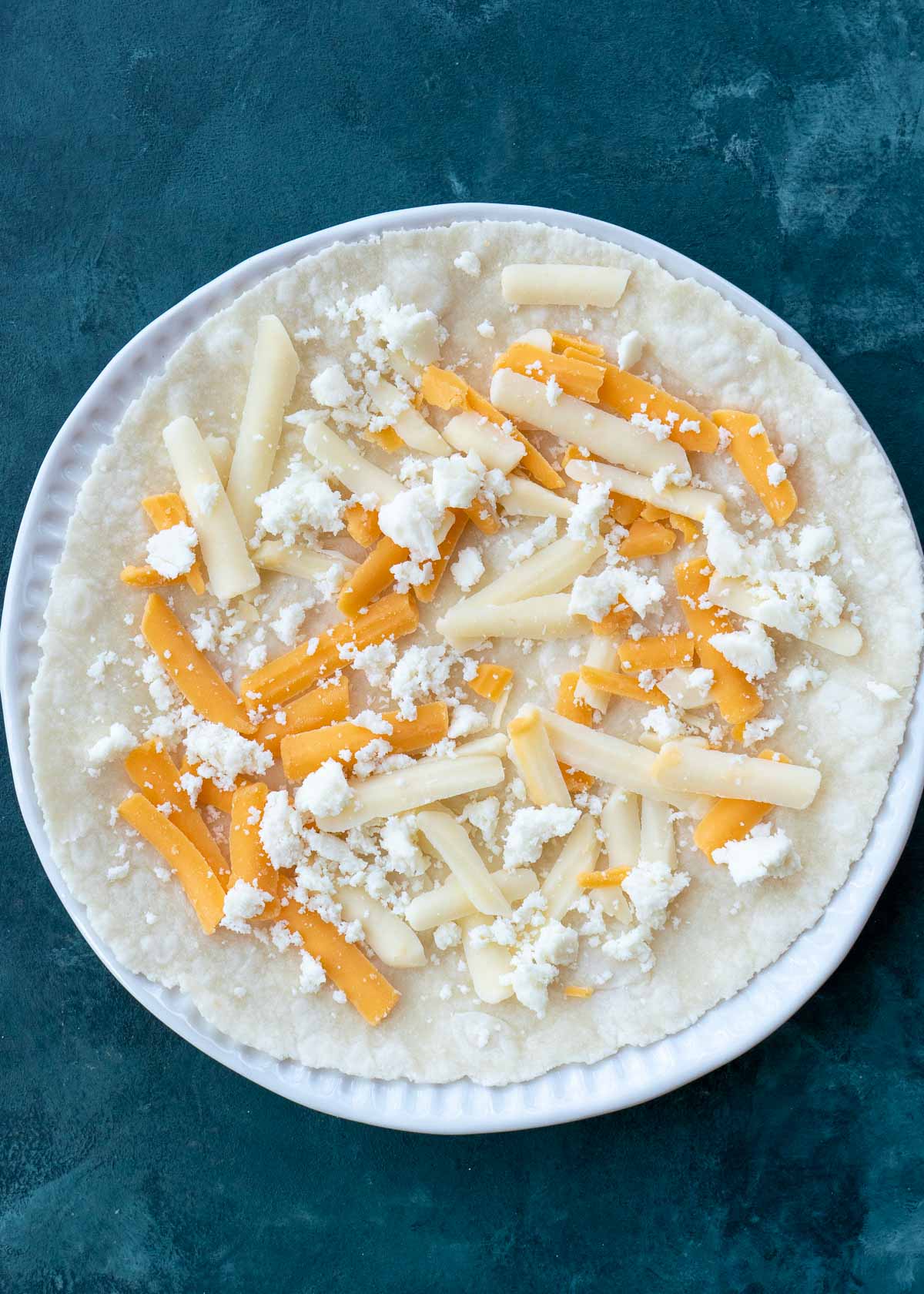 Add sour cream sauce & fold
In a small bowl, mix together sour cream and hot sauce. Spoon this mixture on the quesadilla. Once the cheese is melted and the bottom of the tortilla is nicely golden brown, fold the tortilla over the cooked chicken. Continue cooking until both sides are as browned as you like, flipping the quesadilla if necessary.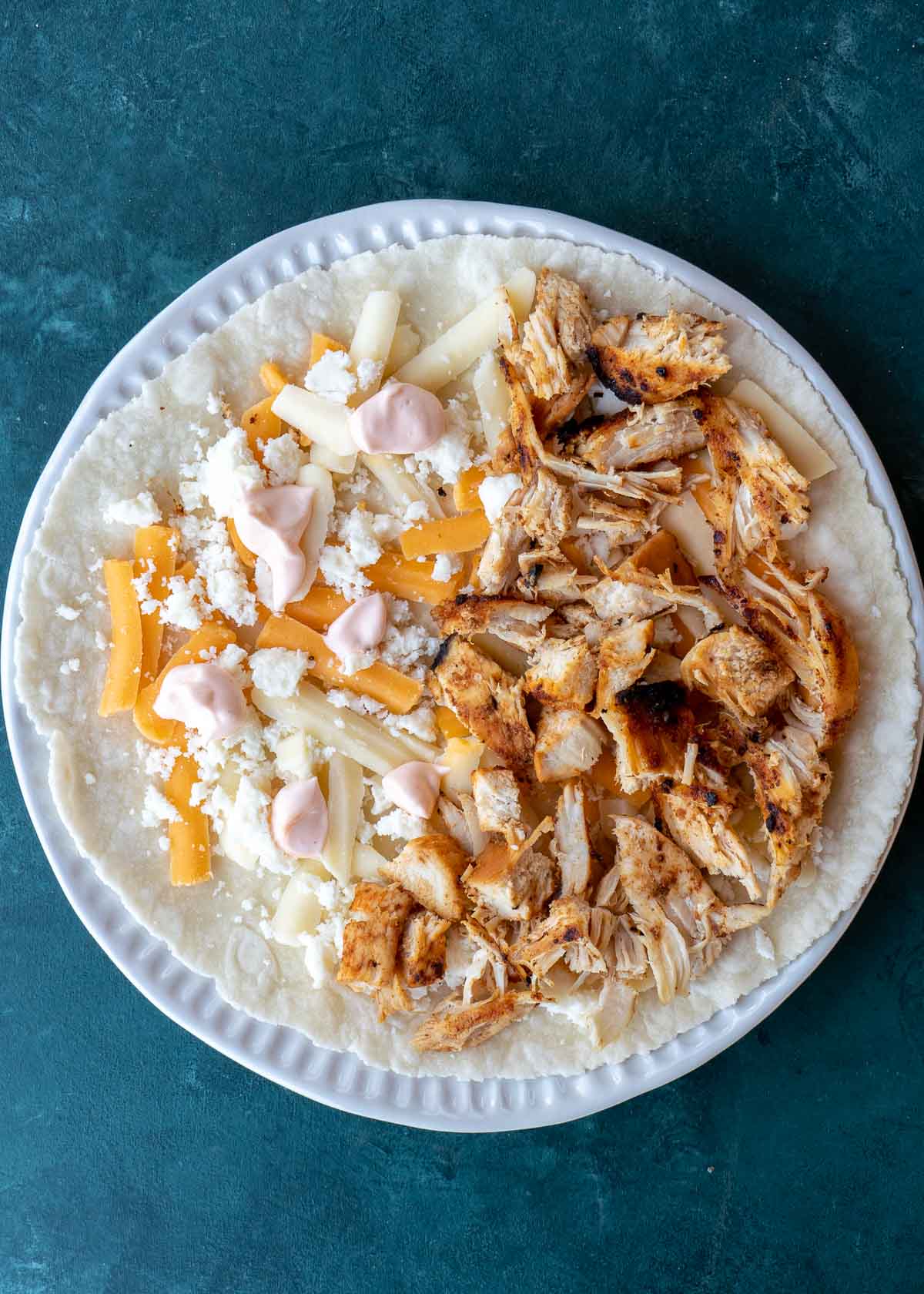 What to serve with quesadillas
With a cheesy chicken quesadilla, you can go simple on the sides! Salsa, guacamole, or queso dip would be great with some tortilla chips (or zucchini chips for a healthy twist). Make extra sour cream sauce and dip crispy air fryer veggies like broccoli or green beans. Here are some other favorite side dishes that go with quesadillas: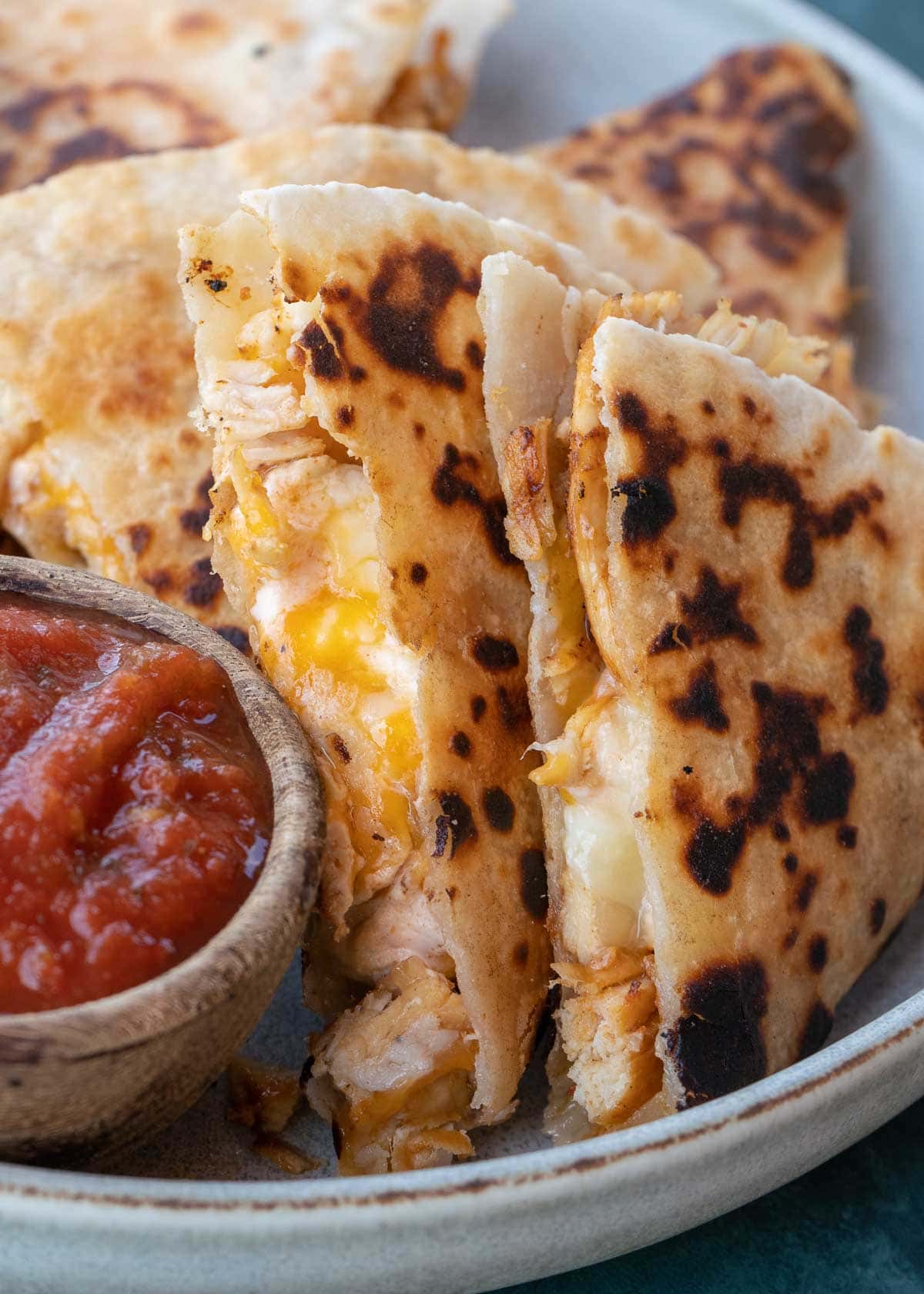 Store
Once the quesadilla has cooled completely, store in an airtight container or tightly wrap with foil. Refrigerate up to 3 days or freeze for later.
Freeze
To freeze, first make sure the quesadilla is completely cool. Any residual heat can turn into condensation which can cause freezer burn. Wrap quesadilla at least twice with foil or heavy duty plastic wrap. Store in a freezer bag and enjoy within 2 months for the best taste and texture.
Reheat
You can reheat quesadillas on the stove or in the air fryer, oven, or microwave.
Stovetop: Skillet with a lid on low, about 3-4 minutes on each side
Air fryer: 350 degrees F, about 2 minutes
Oven: 350 degrees F, 5-10 minutes
Microwave: 1 minute bursts at 50% power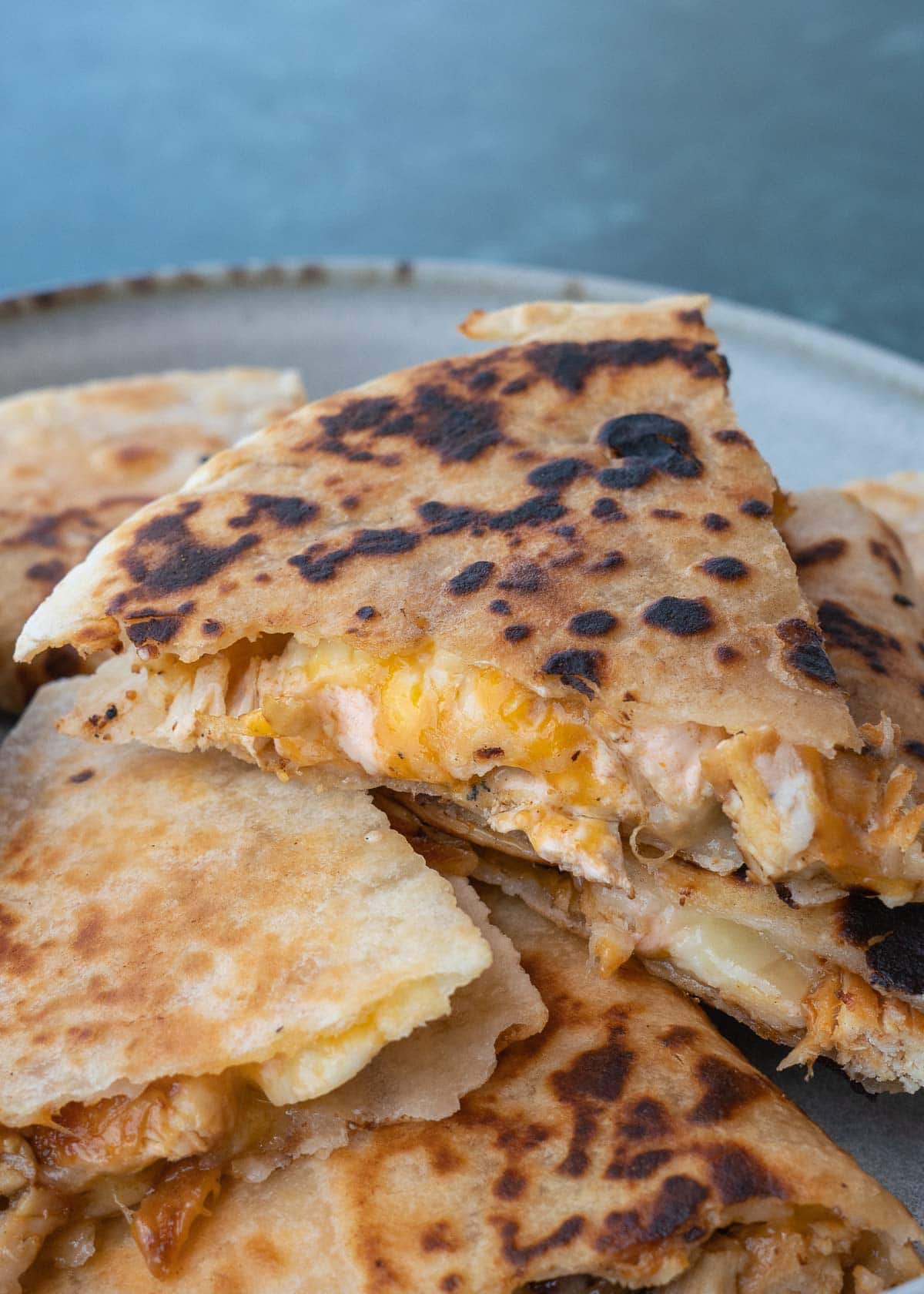 If you love these quesadillas, check out these easy recipes: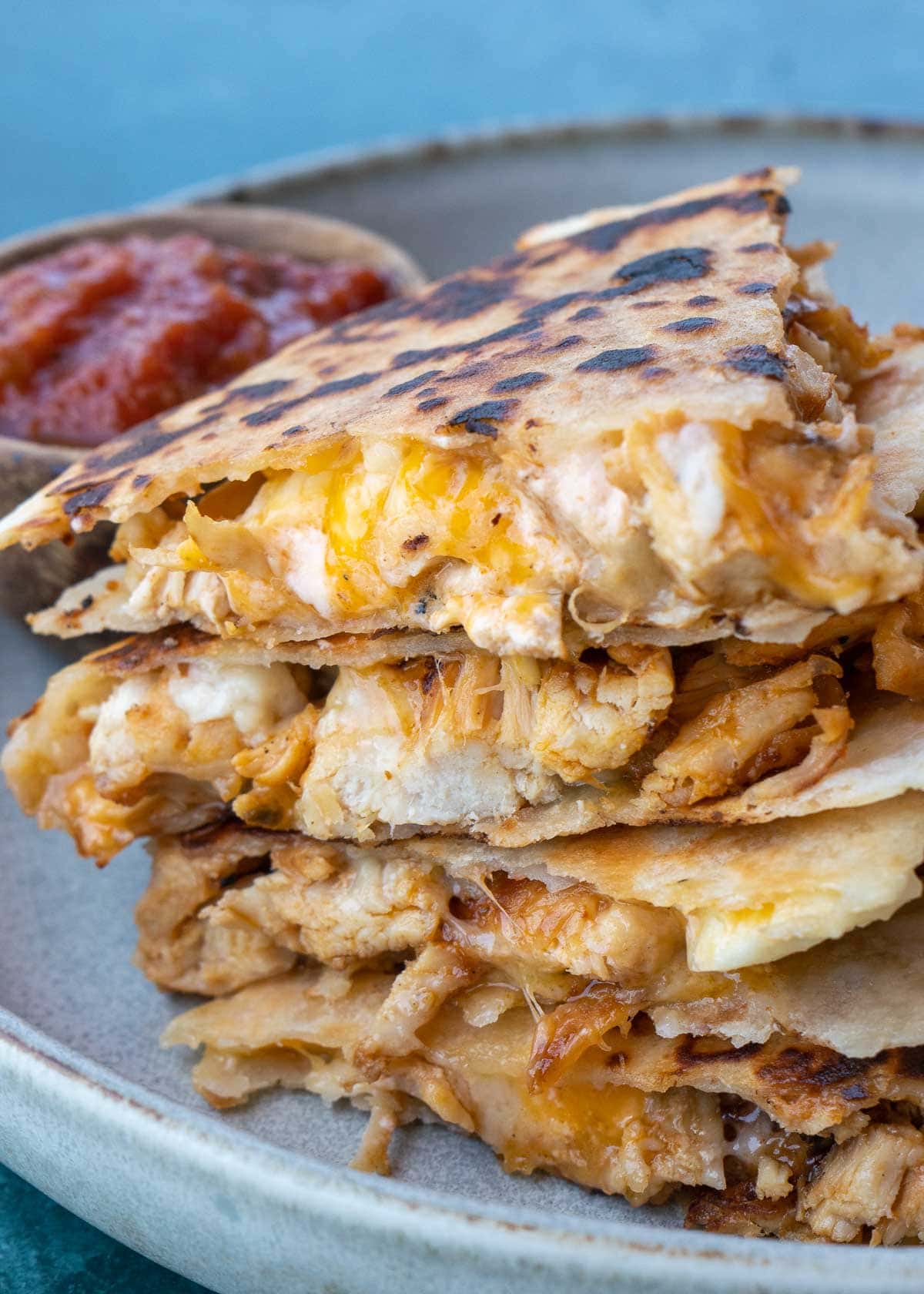 Chicken Quesadilla FAQs
How do you flip a quesadilla without making a mess?
You can avoid making a mess by starting your tortilla out flat on the skillet! This allows the cheese to melt, causing it to stick to the tortilla and not fall off when you're ready to fold it over to close the quesadilla. This also allows both sides of the quesadilla to get golden brown, meaning you can get away without any flipping at all!
What is the best cheese for quesadillas?
For the best quesadilla, you need a great flavor and the perfect melty, gooey texture. We used sharp cheddar for its melting qualities and queso fresco for its distinct flavor. Pepper jack and cotija would make a great blend as well!
Can you make quesadillas keto?
Yes, it's possible to make quesadillas fit into your keto diet! Using a low-carb tortilla like Carb Balance will reduce the carb count for this quesadilla to under 7 net carbs. If you want to leave out wheat entirely and lower the carbs even further, replace the tortilla with a cheese wrap and follow these instructions for a Keto Quesadilla.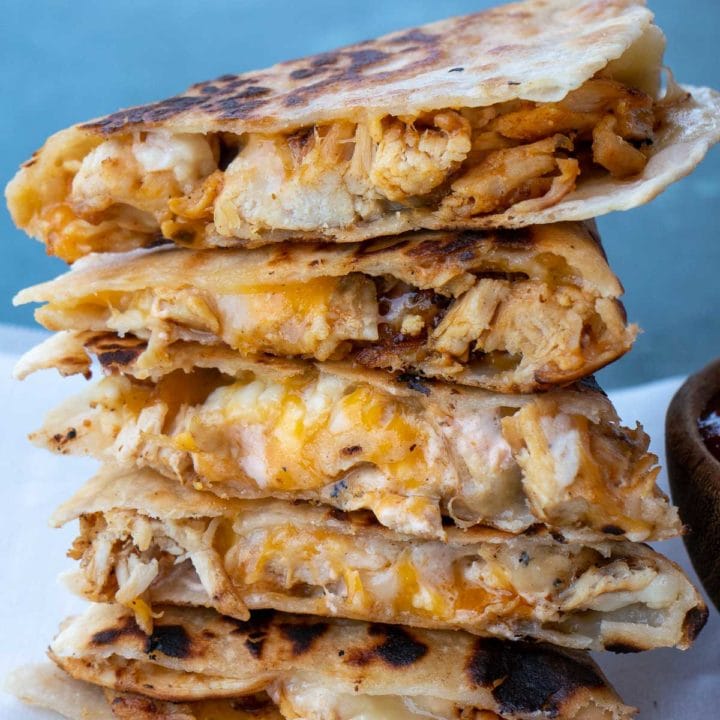 Chicken Quesadilla
Learn how to make the best Chicken Quesadilla! This easy chicken recipe features a crispy tortilla loaded with two kinds of cheese, tender chicken, and a savory sauce.
Ingredients
1/2 tablespoon butter, unsalted
1 large, burrito-sized flour tortilla, low carb or gluten free tortillas work as well
1/3 cup shredded cheddar cheese
2 tablespoons queso fresco
2/3 cup cooked chicken
1 tablespoon sour cream mixed with 1 teaspoon hot sauce
Instructions
Heat a large skillet to medium heat. Add butter or cooking oil to the skillet.
Place the tortilla in the hot skillet.
Sprinkle the tortilla with the cheeses, and add the cooked chicken to half of the tortilla. Spoon the sour cream mixture on the tortilla.
When the cheese has melted and the bottom side of the tortilla has browned carefully fold the tortilla over to close the quesadilla. When the tortilla is golden remove from the skillet.
Nutrition Information:
Serving Size:

1 quesadilla (nutrition calculated with carb balance tortilla)
Amount Per Serving:
Calories:

417
Total Fat:

25.2g
Cholesterol:

120mg
Sodium:

769mg
Carbohydrates:

21.7g
Net Carbohydrates:

6.7g
Fiber:

15g
Sugar:

0.6g
Protein:

37g