Try these Shrimp Nachos for a fun dinner loaded with flavor! Jerk seasoning, roasted sweet potatoes, tender black beans, and plump shrimp top a bed of sweet potato tortilla chips!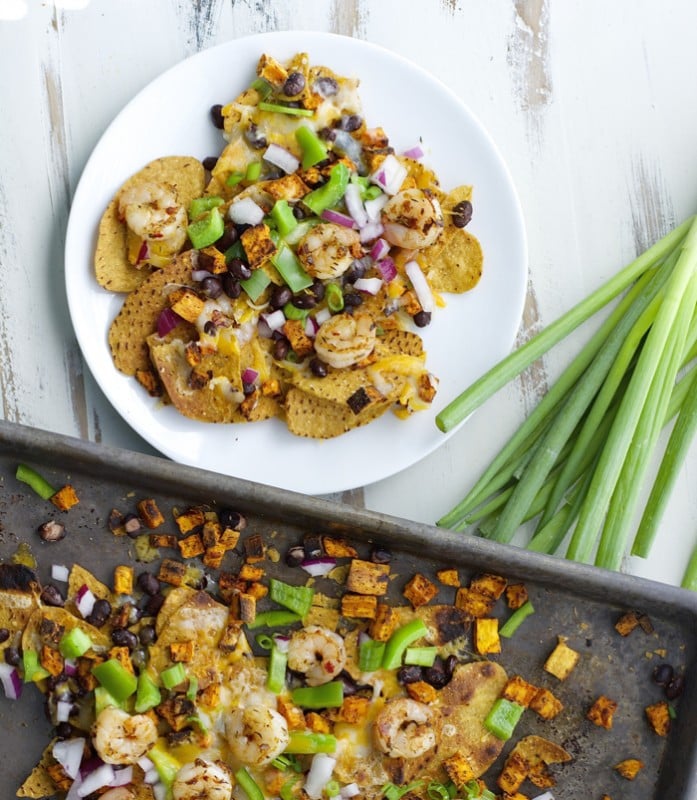 If the extreme amount of fall decorations or pumpkin recipes in your Pinterest feeds haven't tipped you off, Summer is coming to a close.
I have actually always been happy to bid Summer ado at the end of the season. Summer is so hot and humid in Tennessee it can be hard to actually enjoy it. The last few months even taking the dogs for a walk has been hard because it is just too hot for them.
So I am ready to welcome cooler weather, caramel apples, hoodies and soups with open arms. But before we do, let's celebrate one last weekend of pool time, grilling and boating before we say goodbye.
These nachos are the things dreams are made of! Seriously. They contain so many of my favorite ingredients! Plump shrimp is tossed in spicy Jerk seasoning with roasted sweet potatoes, black beans, tons of veggies and cheese all on a bed of ultra crispy sweet potato tortilla chips.
Yes yes yes.
Choose your absolute favorite tortilla chips–I chose the sweet potato tortilla chips by Food Should Taste Good. Whatever you pick, make sure it's a sturdy chip that can handle all these amazing toppings!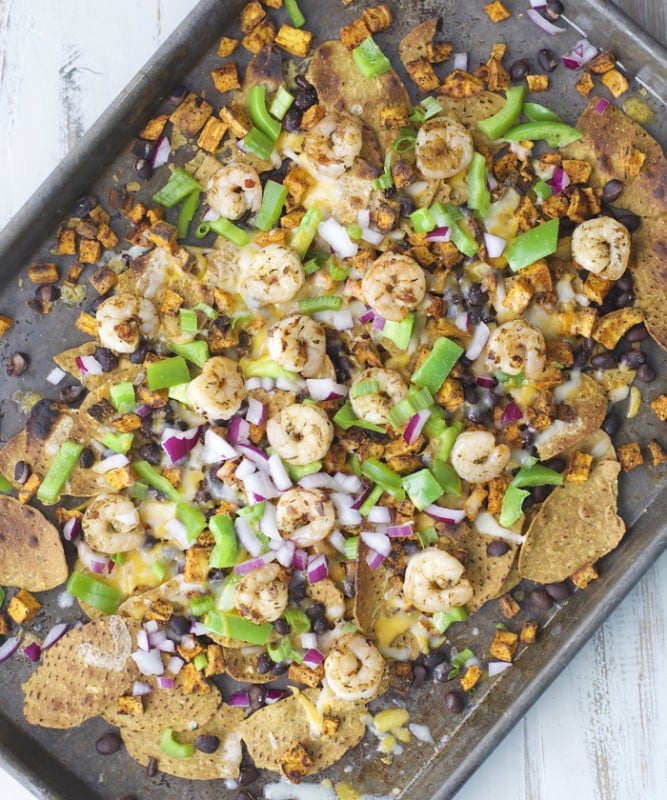 Ingredients for Shrimp Nachos:
Here's a quick overview of what you'll need for this delicious dish! For exact measurements and instructions, keep scrolling!
Tortilla Chips (any kind–I used sweet potato tortilla chips)
Roasted Sweet Potatoes (using a sweet potato, olive oil, jerk seasoning, and chili powder)
Jerk Shrimp (using peeled & deveined shrimp and Jerk seasoning)
Black Beans
Green Onions
Red Onion
Shredded Cheese (I used Colby Jack, but you can use your favorite!)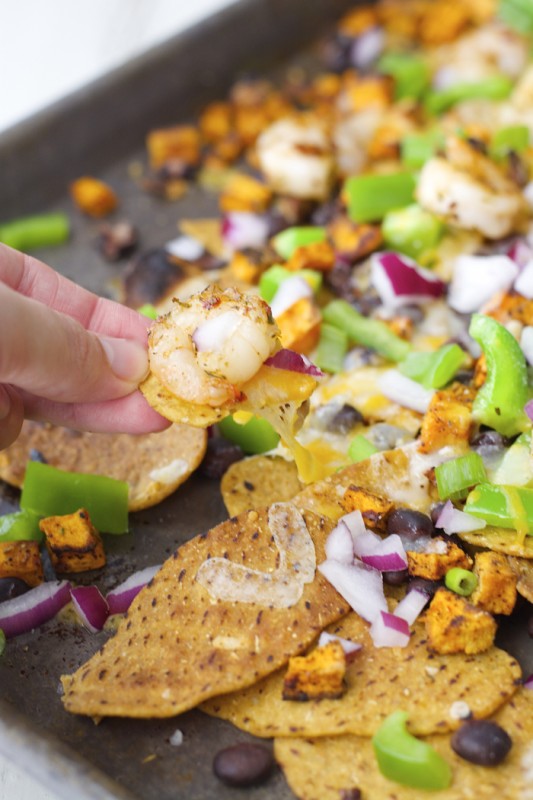 How do I make Shrimp Nachos?
This recipe is so simple! It does have a few steps, but each one requires very little effort.
First, you want to season and roast your diced sweet potatoes. Try to turn and flip them a few times during baking to make sure they get nice and crispy on each side. While these are baking, toss your shrimp with spices and sauté until opaque.
On a baking sheet, dump the bag of tortilla chips in a mostly-single layer. It's okay if they overlap, but they'll get nice and crisp if they're mostly in one layer.
Top your tortilla chips with the sweet potatoes, shrimp, black beans, red onions, green onions, and cheese. Broil for a minute until cheese gets nice and bubbly. Remove and serve immediately!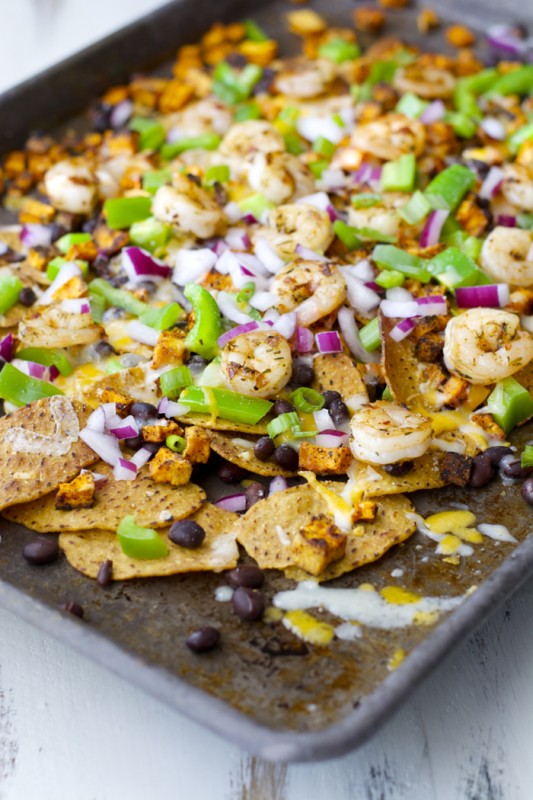 Can I make these ahead of time?
I wouldn't recommend this as a meal prep option because the chips would get soggy. It's best to serve this fresh, right out of the oven. However, you can definitely prepare some components in advance to make it a super quick meal!
Roast your sweet potato up to 3 days before you want to serve nachos. When ready to serve, you could toss the sweet potatoes onto a baking sheet and simply crisp them up (about 5 minutes at 400 degrees F) while you are sautéing your shrimp. This simple meal prep step means that this meal is ready in 10 minutes instead of almost 40!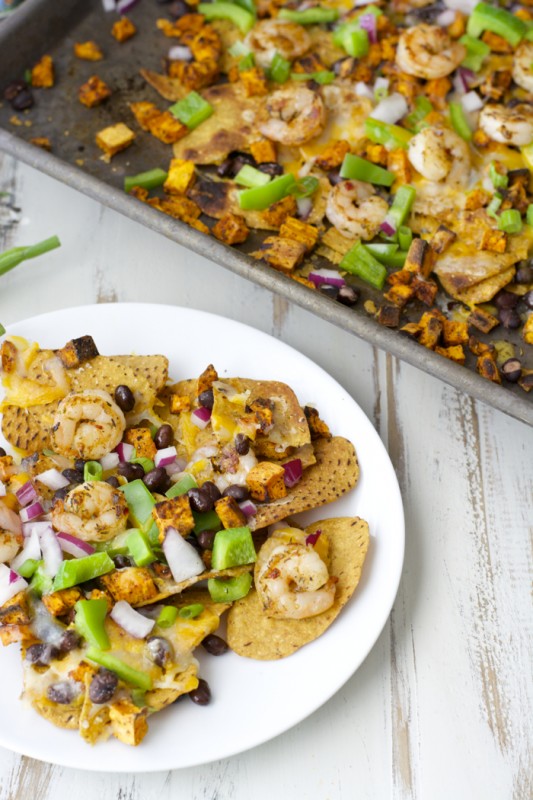 Tips & Tricks for the Best Nachos:
Try different proteins — I love shrimp, but this is an excellent option for shredded chicken, bbq pork, steak strips, even tofu! This is a great way to use up leftover or meal-prepped protein.
Add different toppings — While the sweet potato and black beans are my favorite with the jerk seasoning, there are tons of other options. You could add diced peppers, grilled corn, guacamole, pinto beans… There's no limit here!
Try multiple types of chips — I love the sweet potato tortilla chip flavor, but the classic is great as well! Make these extra special by using both types in your dish!
Don't overcook your shrimp — While this doesn't stay under the broiler for long (only long enough to melt the cheese), you want to be super careful that the shrimp doesn't overcook during this time. I like to take each shrimp out of the pan as it looks ready instead of waiting and taking them all out at once.
More Quick Shrimp Recipes:
Looking for low-carb shrimp recipes? Here are some of my favorites: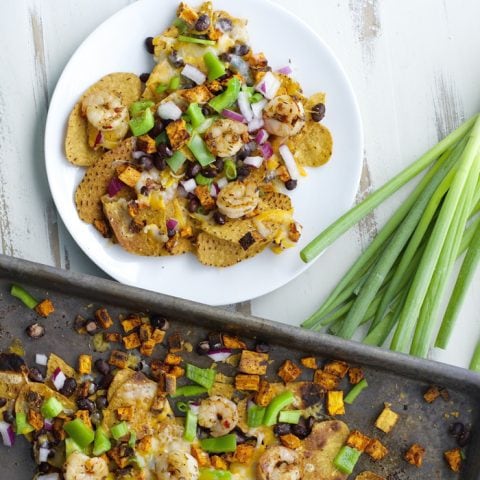 Shrimp Nachos
Try these Shrimp Nachos for a fun dinner loaded with flavor! Jerk seasoning, roasted sweet potatoes, tender black beans, and plump shrimp top a bed of sweet potato tortilla chips!
Ingredients
For the Spicy Sweet Potatoes
1 large sweet potato, peeled and diced
2 teaspoons olive oil
1 teaspoon Jerk seasoning (I used McCormick)
1/2 teaspoon chili powder
For the Jerk Shrimp
3/4 pound peeled and deveined shrimp
1 tablespoon Jerk seasoning
For the Nachos
1 bag (5.5 ounce) Sweet Potato Tortilla Chips (I used Food Should Taste Good brand)
1 (15 ounce) can black beans, drained and rinsed
1/8 cup green onions, chopped
1/8 cup red onion, chopped
1 cup shredded cheese
Instructions
Preheat oven to 425 degrees
Toss the chopped sweet potato with the oil, chili powder and Jerk seasoning. Place on a medium size baking sheet in a single layer.
Roast for 30 minutes, turning occasionally.
Heat a large skillet to medium heat and spray with cooking oil. Toss shrimp with Jerk seasoning and cook for 3-4 minutes on each side until shrimp is pink and cooked through.
To assemble the nachos, place the sweet potato tortilla chips in a single layer on a large baking sheet, then top with roasted sweet potatoes, black beans, shrimp, onions and cheese. Broil on low for approximately one minute until cheese is melted.
Notes
You can use regular corn tortillas--Those are great as well!
Nutrition Information:
Yield:

3
Serving Size:

1/3 of pan
Amount Per Serving:
Calories:

728
Total Fat:

28g
Cholesterol:

219.8mg
Sodium:

1202.1mg
Carbohydrates:

72.4g
Fiber:

17.7g
Sugar:

9g
Protein:

45g