Try these Jerk Shrimp and Spicy Sweet Potato Nachos for a fun dinner loaded with flavor! Today's post is sponsored by Food Should Taste Good. Thank you for supporting brands that support Maebells!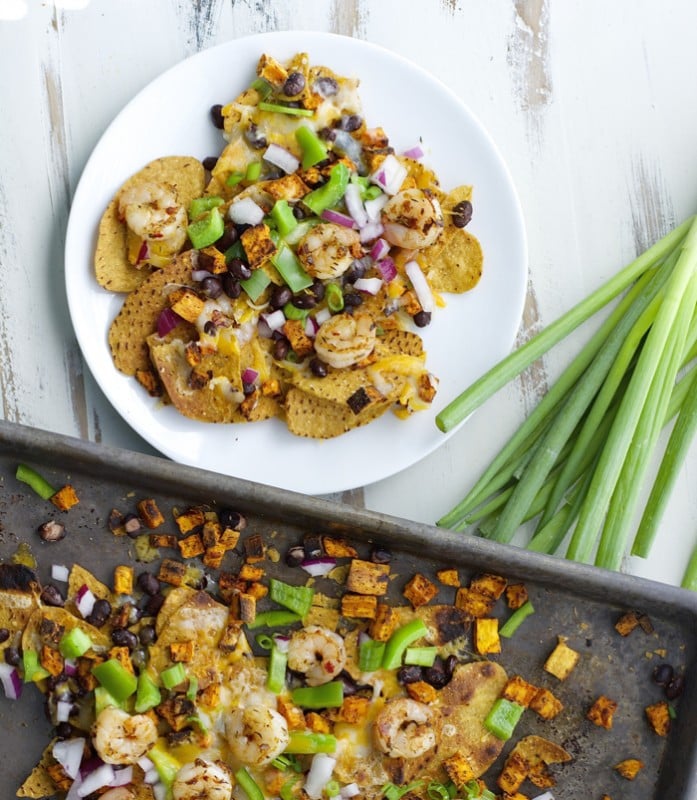 If the extreme amount of fall decorations or pumpkin recipes in your Pinterest feeds haven't tipped you off, Summer is coming to a close.
I have actually always been happy to bid Summer ado at the end of the season. Summer is so hot and humid in Tennessee it can be hard to actually enjoy it. The last few months even taking the dogs for a walk has been hard because it is just too hot for them.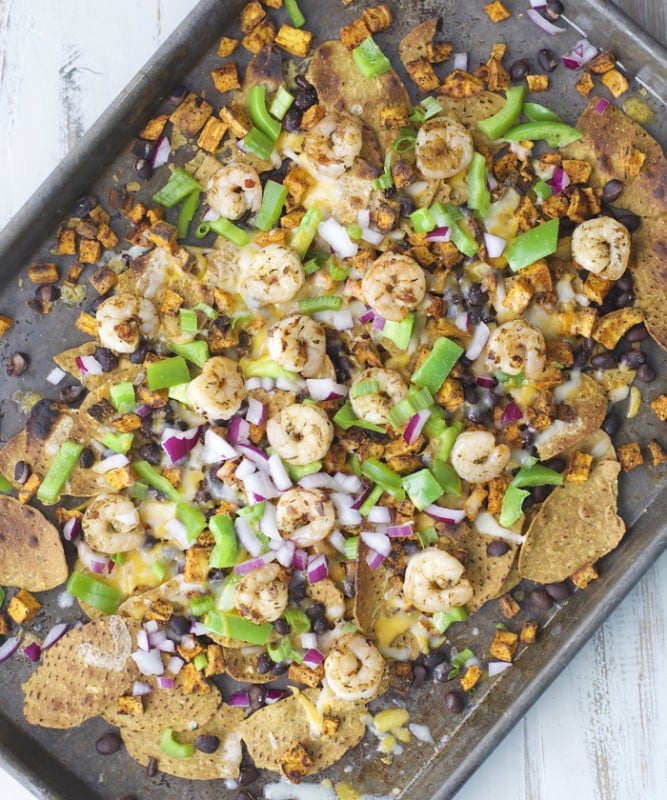 So I am ready to welcome cooler weather, caramel apples, hoodies and soups with open arms. But before we do, let's celebrate one last weekend of pool time, grilling and boating before we say goodbye.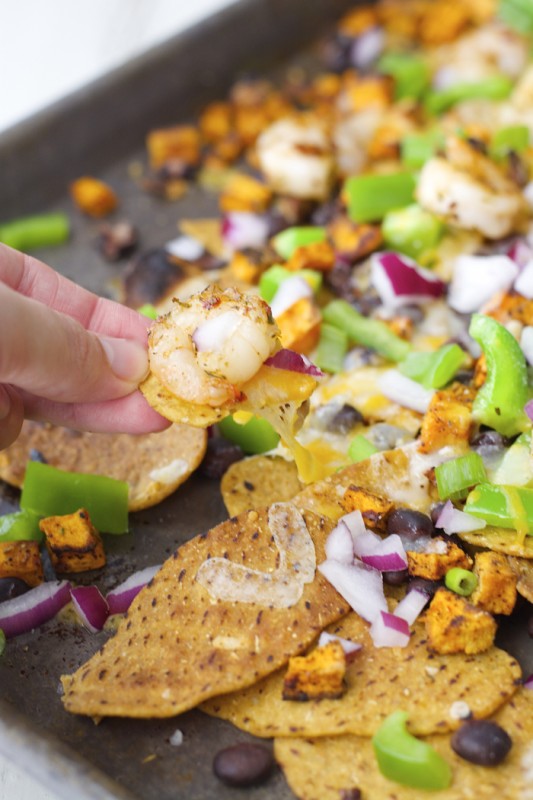 These nachos are the things dreams are made of! Seriously. They contain so many of my favorite ingredients! Plump shrimp is tossed in spicy Jerk seasoning with roasted sweet potatoes, black beans, tons of veggies and cheese all on a bed of ultra crispy sweet potato tortilla chips.
Yes yes yes.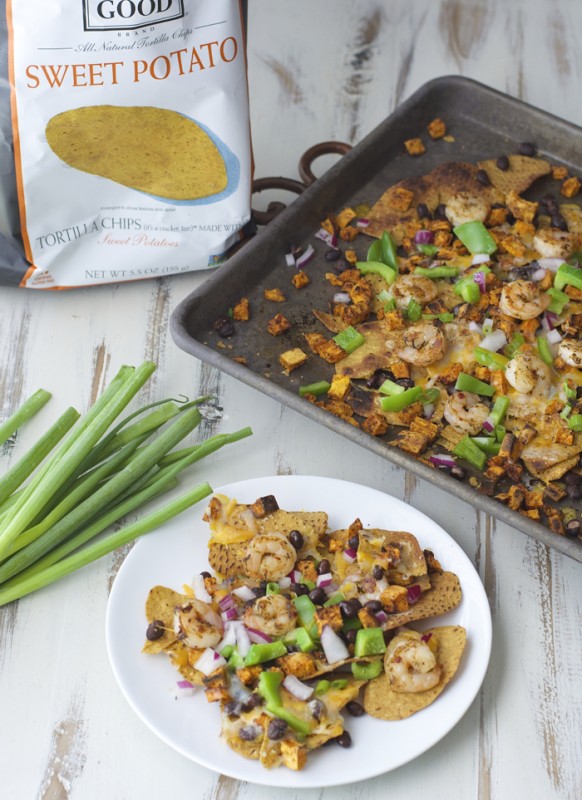 As with any really good nacho recipe the most important ingredient are the tortilla chips! They are the foundation of your entire meal! If you choose flimsy chips they will break or get soggy under the weight of all your awesome toppings.
My favorite tortilla chips are the delicious Sweet Potato Tortilla Chips from Food Should Taste Good. They are gluten free and made from all natural ingredients and they happen to compliment the spicy jerk shrimp, roasted sweet potatoes and black beans absolutely perfectly in this dish!
Also, Food Should Taste Good chips and crackers are non-GMO, certified Kosher and certified gluten-free. Many of the chip varieties are also certified vegan. Which makes this a perfect option for entertaining since you never know what kinds of dietary restrictions your guests may have.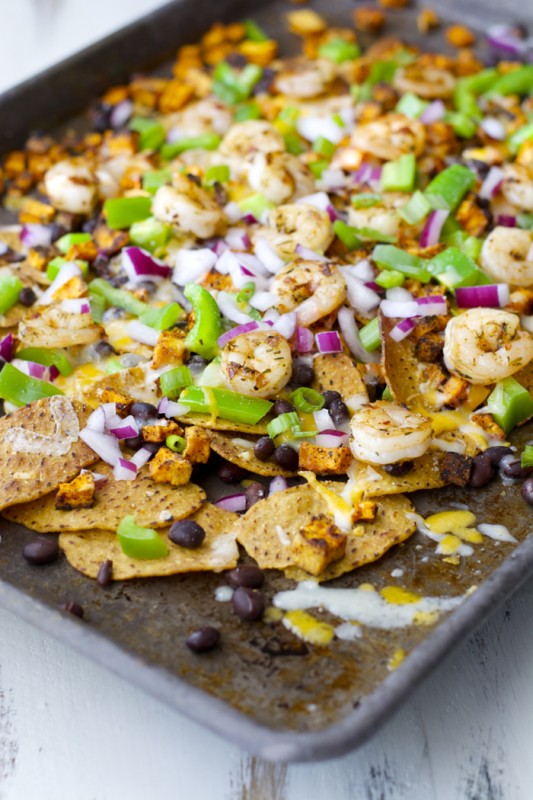 These nachos come together fairly easily. You begin by chopping a large sweet potato into small chunks, toss with a bit of olive oil and jerk seasoning and roast until perfectly crispy.
While the sweet potato is getting perfectly crisp chop your veggies and saute your shrimp. Then assemble your nachos by piling all your ingredients high on sweet potato tortilla chips! This is the kind of meal you'll be making again and again!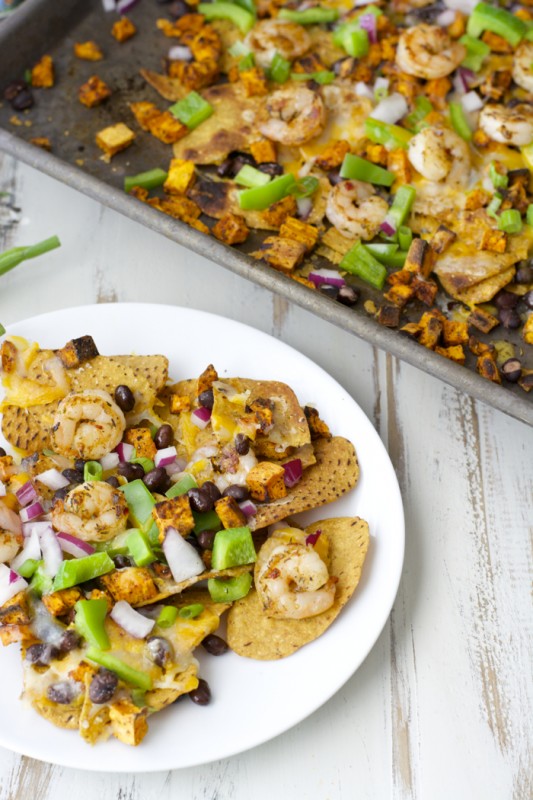 Food Should Taste Good believes in crafting better snacks, as they know food tastes best when it's made with real ingredients. All the tortilla chips and crackers are wholesome snacks that deliver on great taste, real, simple ingredients and sophisticated flavor.
For more information, visit www.foodshouldtastegood.com.