These gluten free Red Velvet Cupcakes are moist and delicious! Topped with Vanilla Cream Cheese Icing they are a dessert that is hard to beat!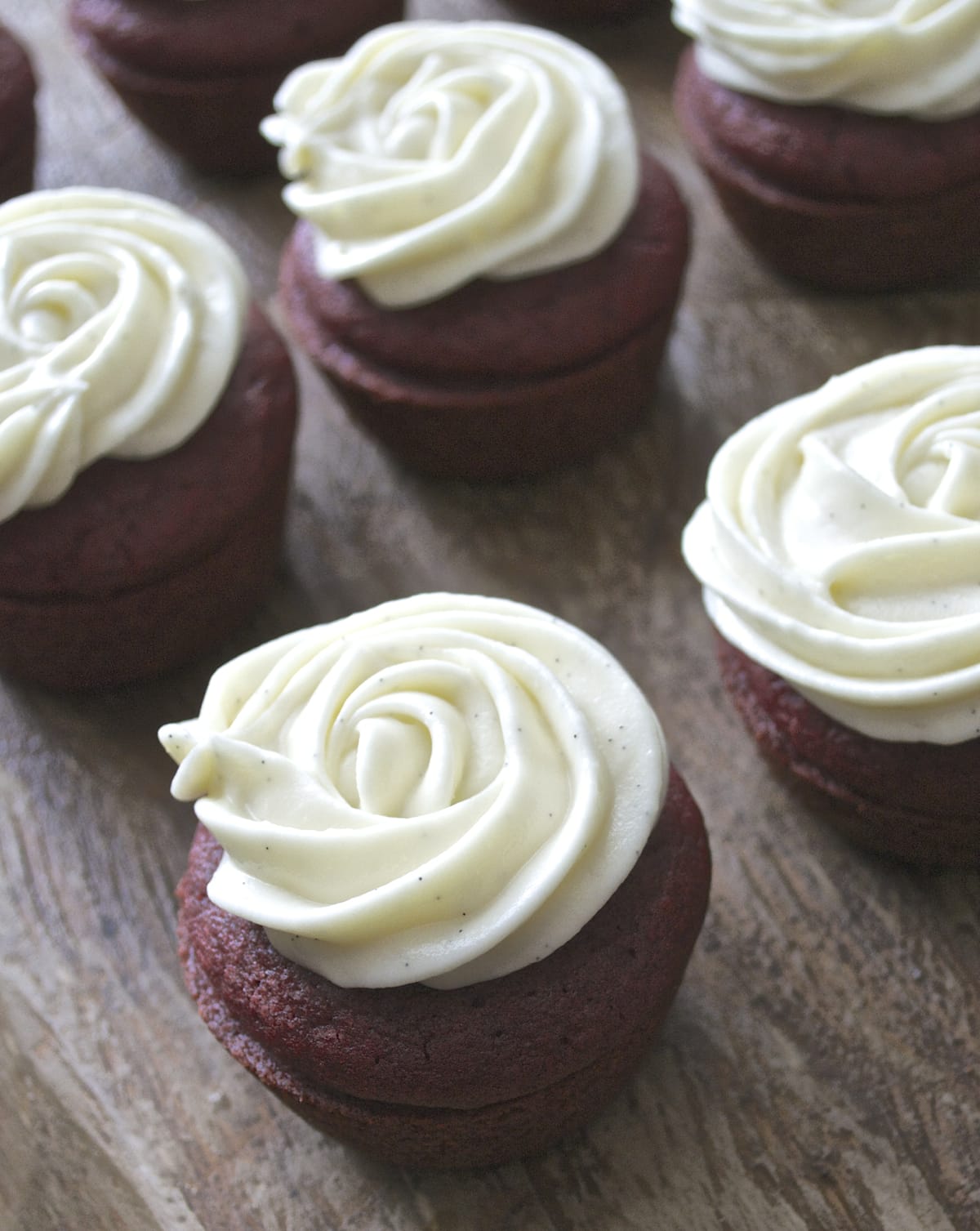 It is a Monday that doesn't feel like Monday! Halleluiah!
I have spent the entire weekend covered in paint. When I cracked open the first can of paint I was 100% sure I was going to regret my decision to spend ALL WEEKEND painting by myself. Surprisingly enough, I have loved it. Mr. Maebell has been away on a hunting trip and he took the dogs with him so the house has been quite in the most fantastic way. Just me, a paint brush, and netflix.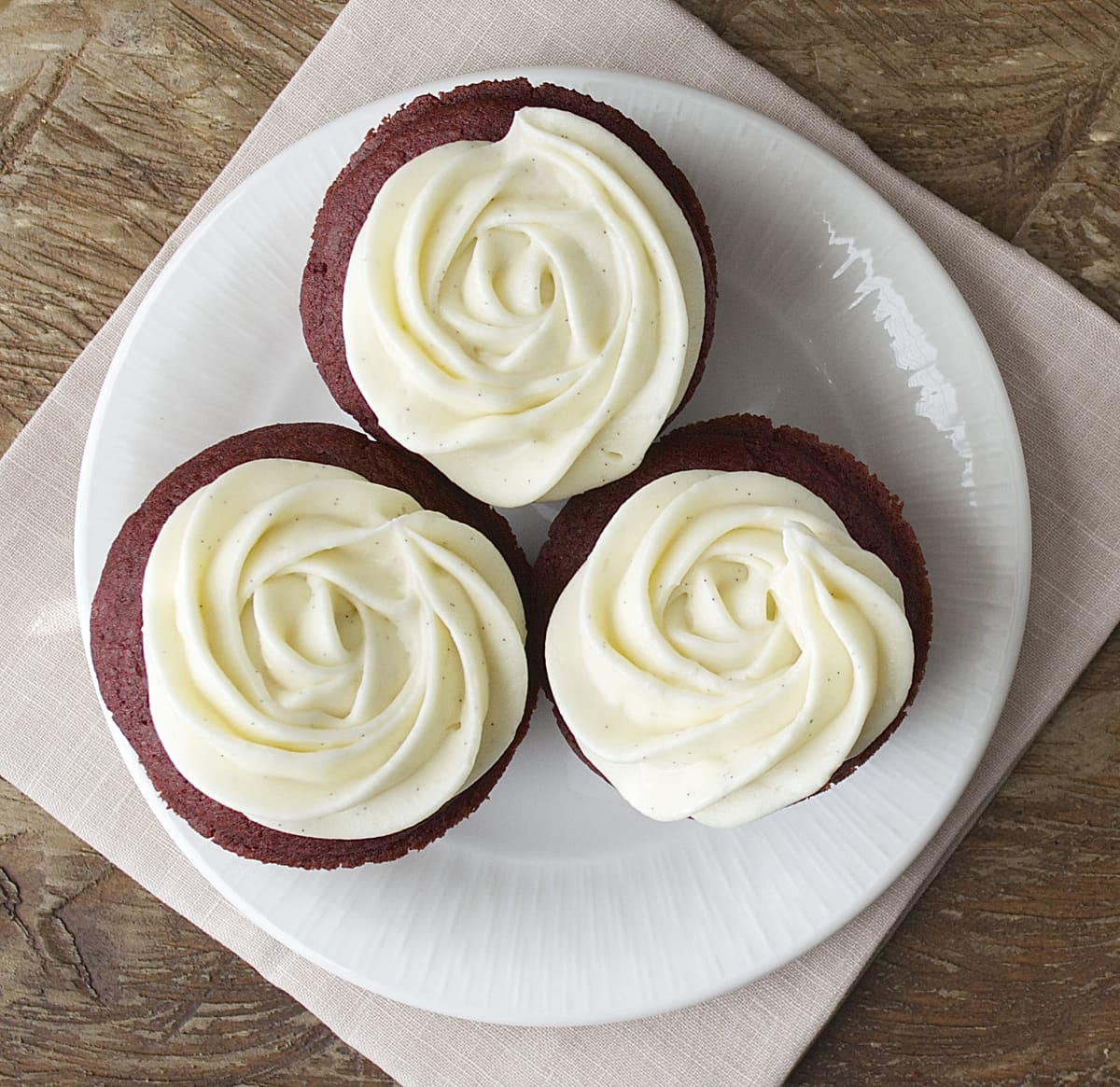 We I have converted one of the spare rooms into an office. You heard me right, an office! Maebells is legit now! 🙂 It is getting a nice coat of mossy/light green paint and a gallery wall so I can finally hang some wedding pictures. It is so refreshing to change things up. While I was out it I repainted a bathroom too!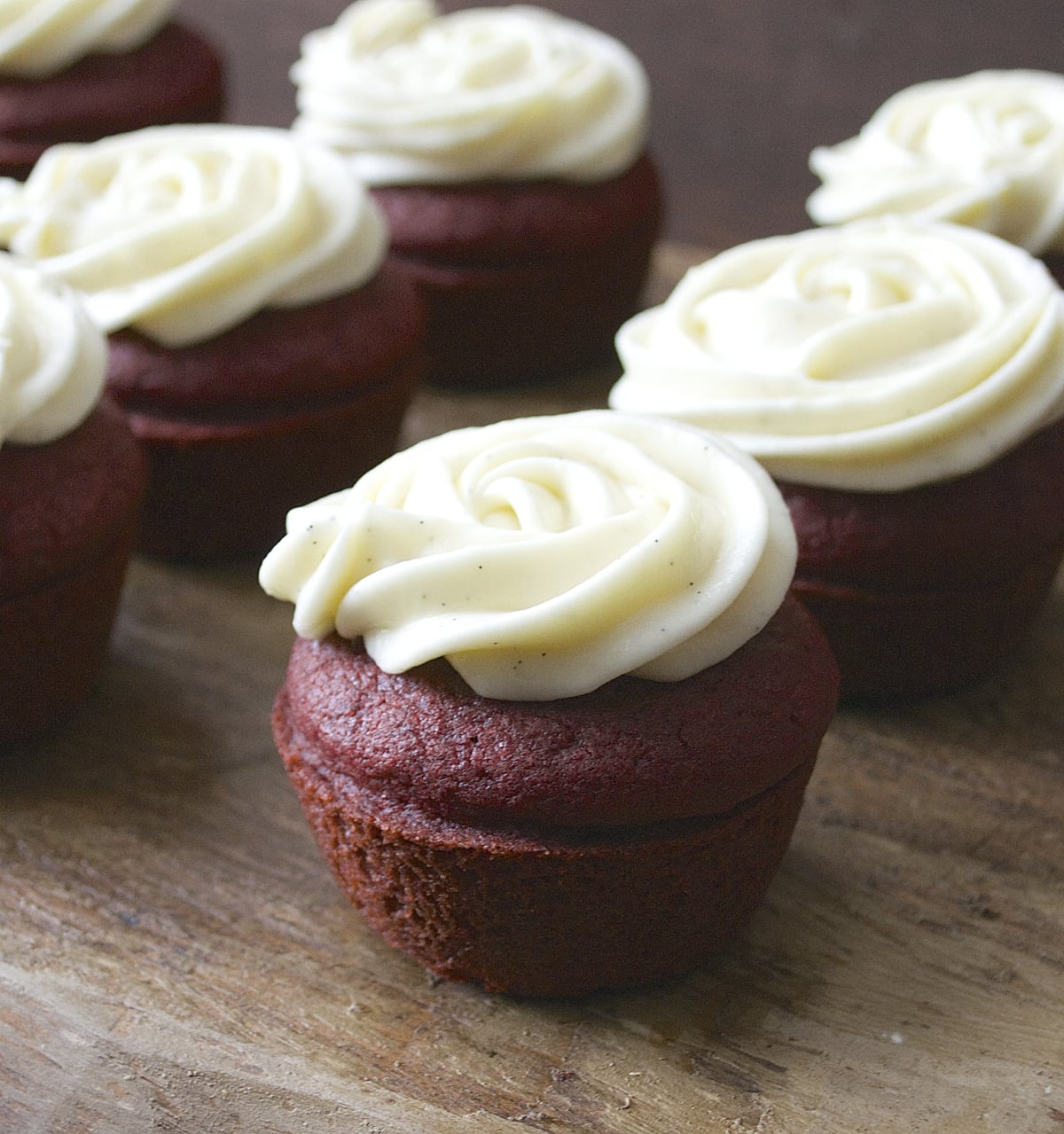 If there is one thing I am sure of it is that any type of home improvement should be rewarded. Which is exactly why I made these Red Velvet Cupcakes with Vanilla Bean Cream Cheese Icing. They seemed like just the way to treat myself after a weekend of spackle, sand paper, and paint!
Yields 12
Red Velvet Cupcakes with Vanilla Bean Cream Cheese Icing
20 minPrep Time
20 minCook Time
40 minTotal Time
Ingredients
For the cupcakes:
1 1/2 cups gluten free bisquick
1/2 cup brown sugar
2 teaspoons baking powder
1/2 teaspoon salt
2 teaspoons dark chocolate cocoa powder
1/2 cup cold coffee
1/2 cup buttermilk
2 eggs
1/3 cup canola or coconut oil
1/2 teaspoon red food coloring
For the icing:
8 ounces of cream cheese (I used reduced fat)
2 tablespoons butter
1 3/4 cup powdered sugar
1 teaspoon vanilla extract
1 vanilla bean*
*If you don't have vanilla bean just use 1 tablespoon of vanilla extract total
Instructions
Preheat oven to 350
Combine the flour, sugar, baking powder, salt, and cocoa powder in a large mixing bowl until well combined.
Add the coffee, milk, beaten eggs, oil and food coloring. Stir until mixture is completely incorporated and smooth.
Spray a muffin tin with cooking spray, and carefully scoop the cupcake batter into the molds. (I used an ice cream scoop, it helps to give them nice round tops)
Bake for 18-20 minutes or until set and a tooth pick comes out clean.
Remove cupcakes from tin and let them cool on a wire rack.
While cupcakes are cooling combine the cream cheese and butter in a large mixing bowl. This is easiest if you use a stand or hand mixer. Beat the cream cheese and butter for 30-45 seconds or until they are fluffy. Add the sugar and vanilla extract and continue to beat the mixture until all the sugar is incorporated and the mixture begins to thicken.
Cut open the vanilla bean and scrape or squeeze out the inside seeds. Beat the frosting about 30 more seconds so the vanilla is distributed evenly.
Store icing in the fridge until the cupcakes are completely cool.
Frost cupcakes and enjoy.
7.8.1.2
102
https://www.maebells.com/red-velvet-cupcakes-with-vanilla-bean-cream-cheese-icing/
More Easy Recipes!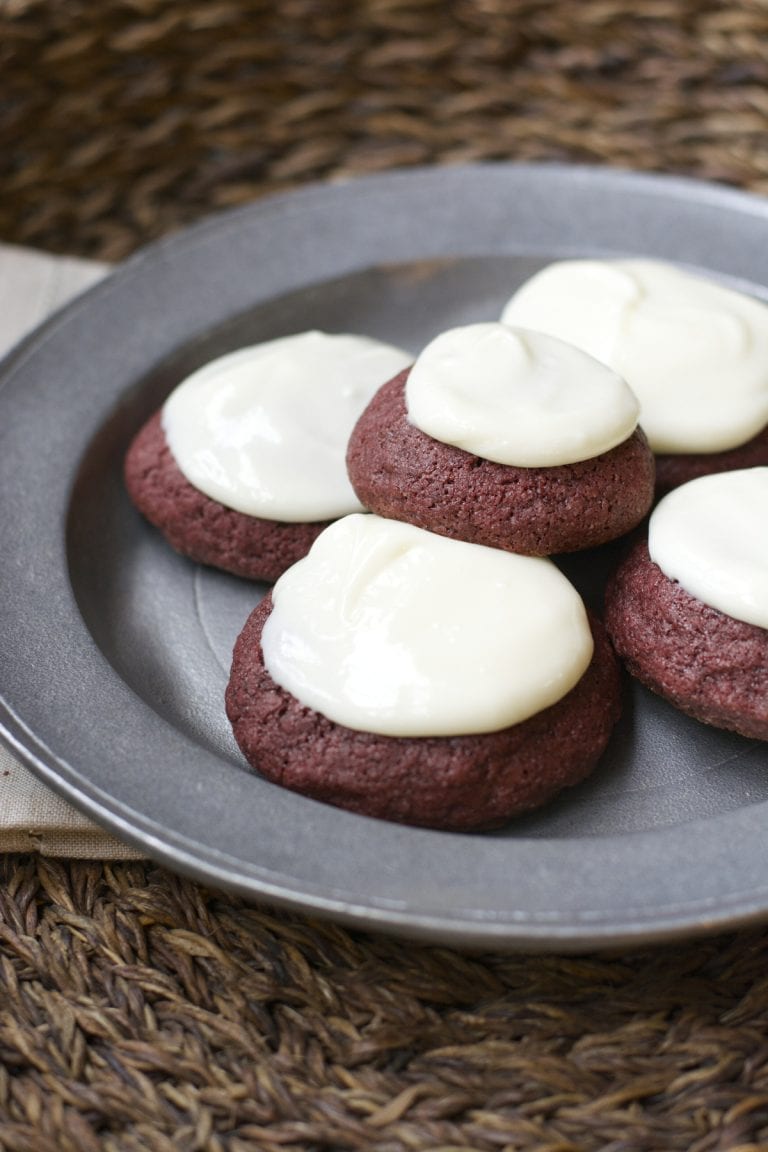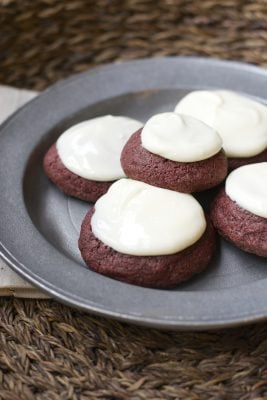 Red Velvet Cookies with Cream Cheese Frosting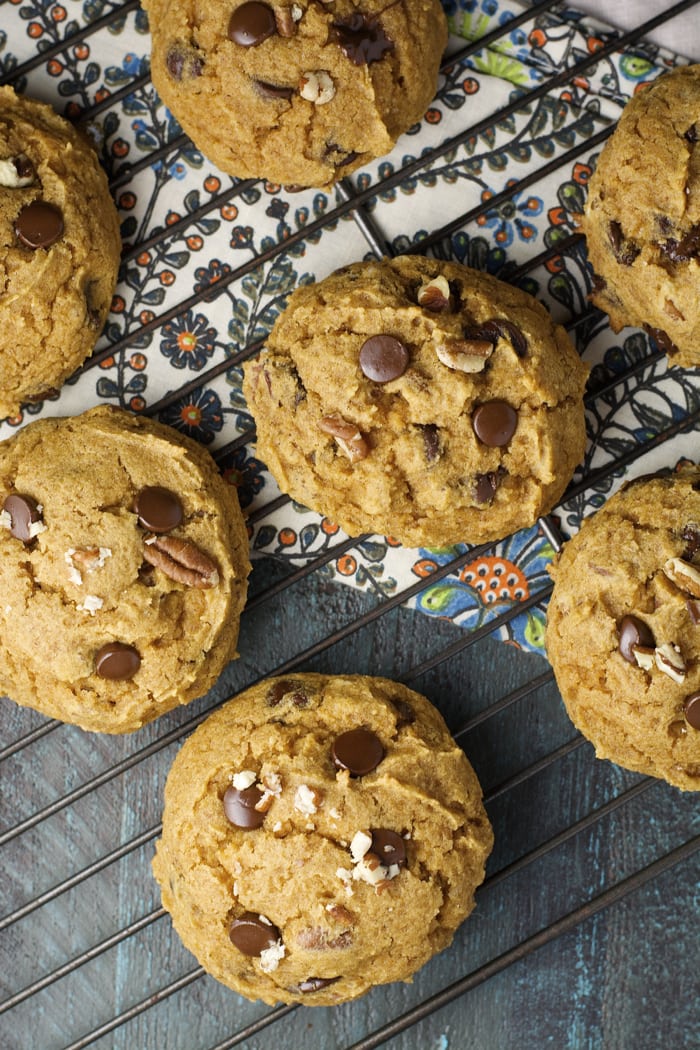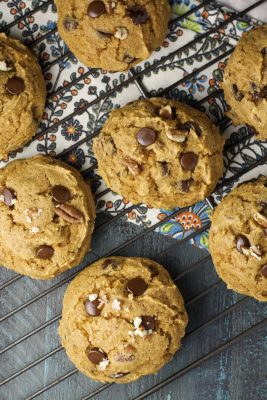 Chocolate Chip Pumpkin Cookies