Sliced eggplant is grilled and packed with a cheesy, Roasted Garlic Ranch and kale mixture! A super easy vegetarian dinner!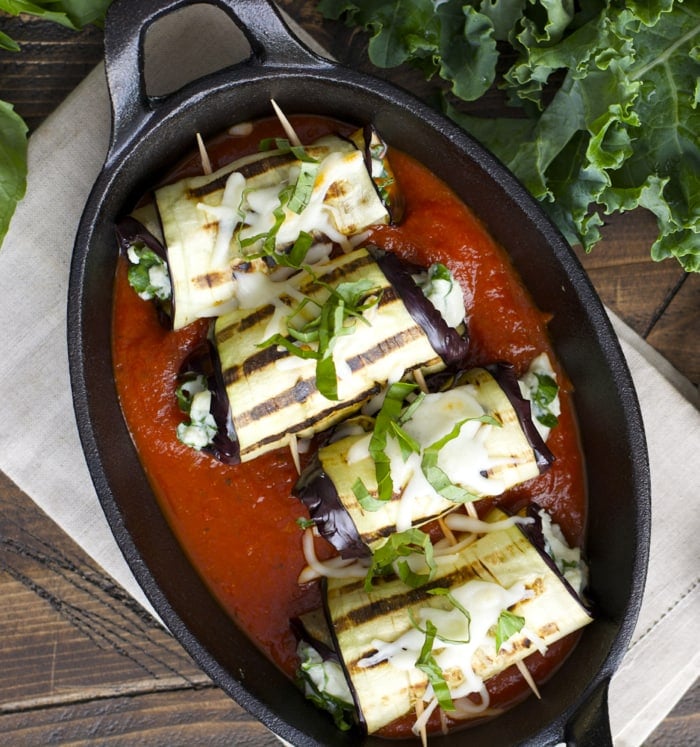 Sunshine makes me feel like Wonder Woman.
My mood and level of productivity is directly related to the sun. Weird right?
In the winter it gets dark well before five, so when I get home from work it doesn't matter how much has to get done I put pajamas and fuzzy socks on and wait for bed time. I mean who in there right mind gets anything done when it is dark out?!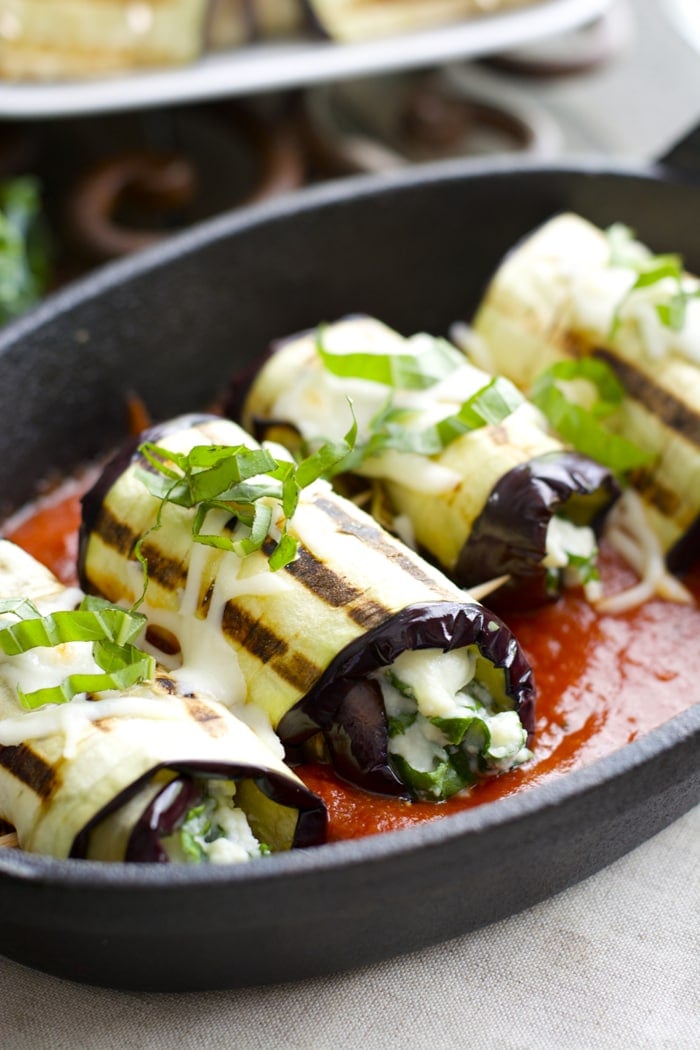 But in the Summer, it is a different story. I can get everything on my to do list plus some extras done every single day because the sun is out! I am unstoppable when the sun is out.
That is how these Roasted Garlic Ranch Eggplant Rolls came to be. There is simply no way Mr. Maebell would consider these a meal because they don't have meat, but I thought I could pass these off as an appetizer.
Yes, you heard me right. An appetizer. On a weeknight! Told you sunshine makes me feel like Wonder Woman!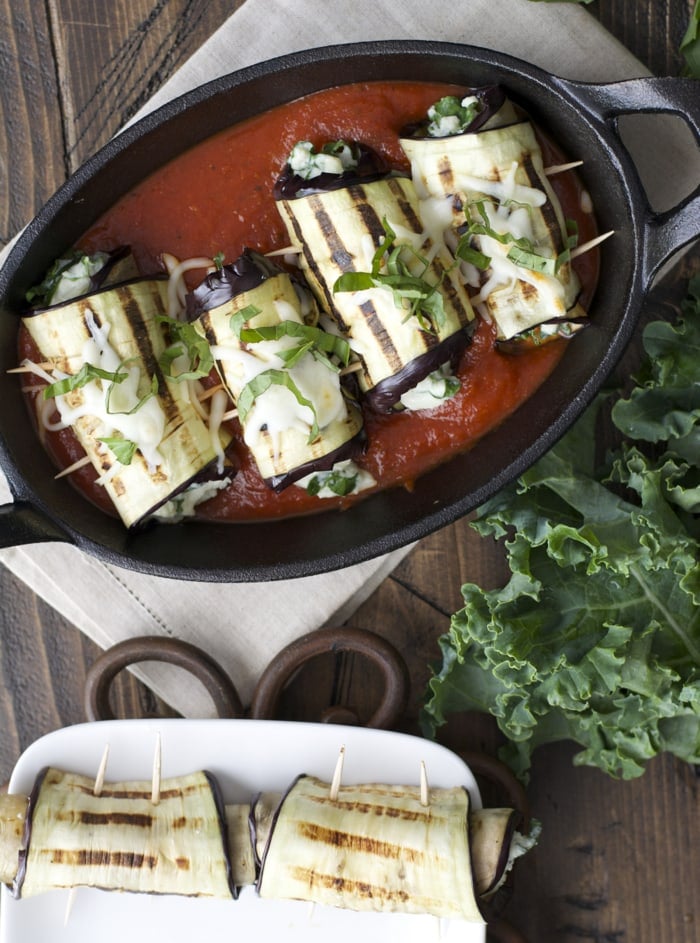 These are really easy to whip up, especially if you already have your grill cranked up for something else. Here is how we make them! Start by slicing an eggplant length wise so you have nice long strips. Spray each side with a little olive oil spray and season each side with a little salt and pepper. Toss the slices on the grill and let them cook for about 2 minutes on each side until you have those nice pretty grill marks and the eggplant is tender.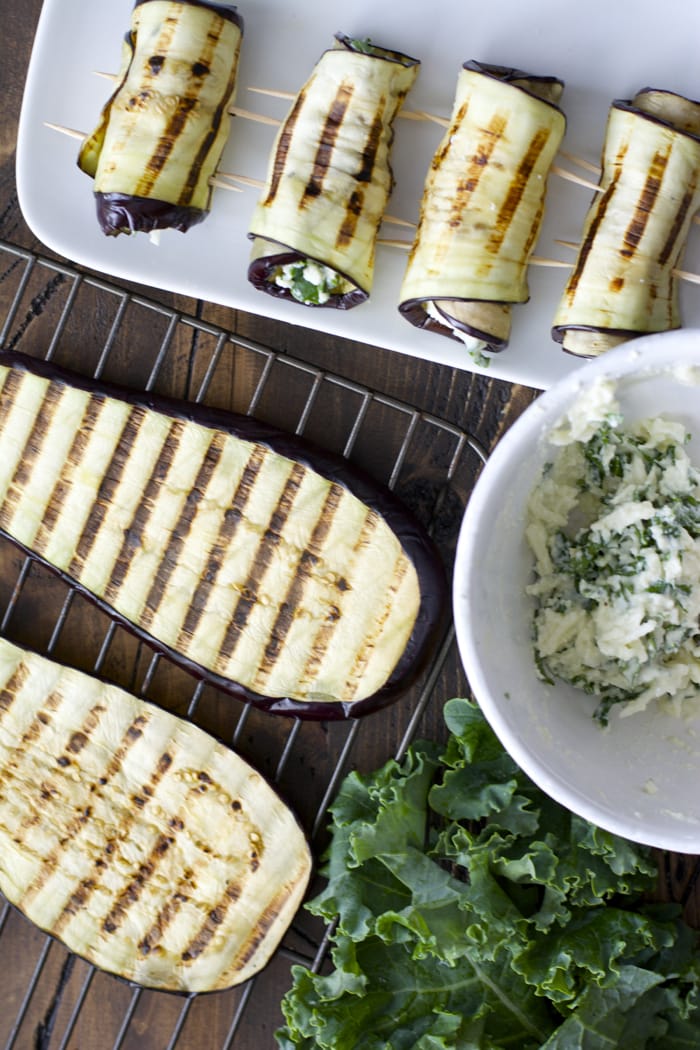 In a small bowl mix some ricotta, shredded mozzarella, Roasted Garlic Ranch dressing and some thinly sliced kale. If you prefer not to use kale spinach is a great substitute. Place a spoonful of the filling on the wide end of the eggplant slices and tightly roll the eggplant up and secure with toothpicks.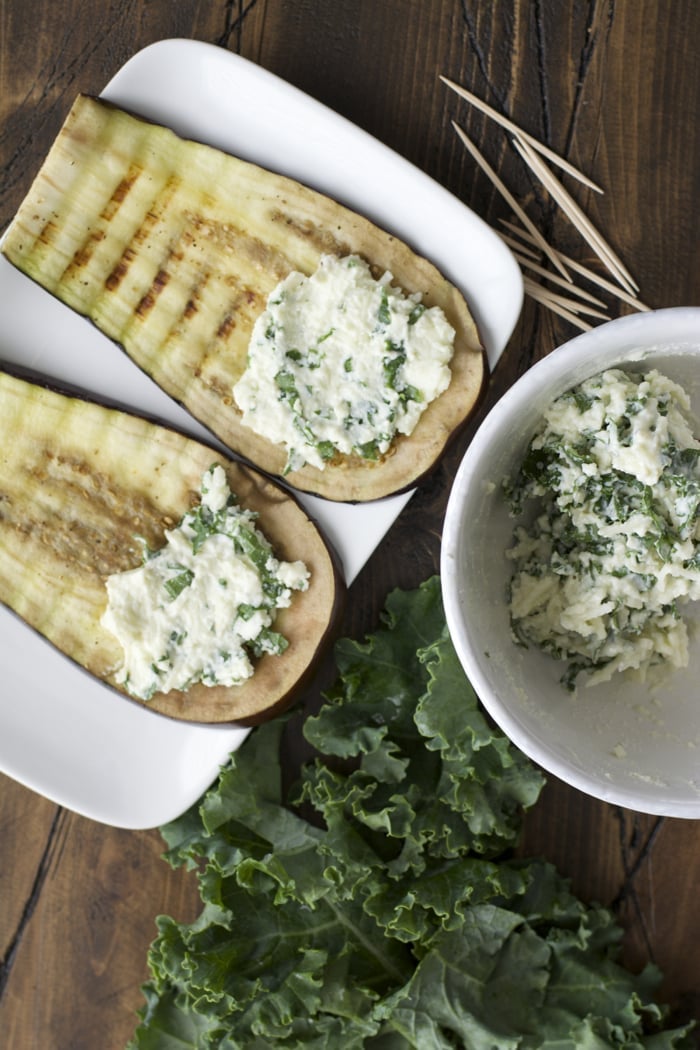 Now, the next step is totally based on your preferences. You can place the eggplant rolls in a small baking dish and bake for 20 minutes at 350 so your rolls are warmed through. This version lets the eggplant and kale shine in all their glory. Or,  you can add 1/2 cup of marinara to the bottom of a small baking dish and place the eggplant rolls right on top. Sprinkle with a little extra mozzarella and bake for about 20 minutes and top with a little basil.
Both versions are great, the first is nice and simple and the second gives you a nice alternative to eggplant parmesan. Either way you try it, this is a perfect Summer recipe that comes together in a flash!
You May Also Like: