I am emotionally spent after Wednesday's post, so no cute stories today, just a really good recipe!

We are buffalo chicken fanatics in this house.
We have buffalo sauce on pizza, baked potatoes, chicken tenders, mac and cheese, chicken casserole, fries, basically anything. Which is why if I am feeling uninspired for our dinner menu I know anything with that flavor combo is going to be a big hit. This was no exception.
I kind of used the flavors from buffalo chicken dip and just wrapped it up in corn tortillas and baked. How simple is that? And because I just threw the chicken in the crock pot before I went to work I didn't even actually have to cook.
Just shred, mix, roll, bake, eat. My kind of dinner.
This also makes a ton, I actually made half this amount because there is only two of us and if I would have made the full recipe Mr. Maebell would have felt obligated to eat all of them. Every single one.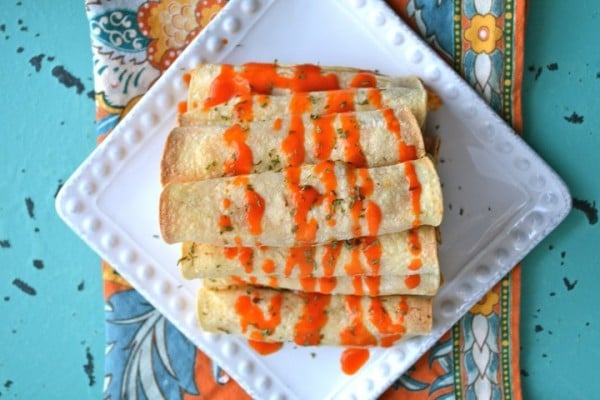 This is a great one to keep handy because it makes a quick dinner, or a great lunch with things you probably already have on hand. Serve with a great big salad and you have a crowd pleasing dinner!

Buffalo Chicken Taquitos
Ingredients
1 pound chicken breast, cooked and shredded
1 8 ounce package of cream cheese (reduced fat is fine)
1 package of ranch seasoning
1 cup shredded cheese
½ cup buffalo sauce (or to your taste)
30 corn tortillas
Instructions
Preheat oven to 400
Cook your chicken, I just put the chicken breast in my smallest crock pot with about a cup of chicken broth cooked on low for 8 hours. Then I shredded them using my stand mixer when I got home. You can also bake it if you prefer.
Mix shredded chicken, softened cream cheese, ranch seasoning, cheese, and buffalo sauce until well combined.
Go ahead and spray two cookie sheets with cooking spray and set aside.
Work with about 6 corn tortillas at a time, put them in a clean dish towel, microwave for about 45 seconds, you want them to be pipping hot so they will not crumble when you roll them.
Add a tablespoon or two to one side of the tortilla and roll, lay seam side down on the cookie sheet. Repeat this until all your filling is gone.
When your cookie sheet is full of taquitos lightly sprayed the top with cooking spray just to help them brown a bit.
Bake about 20 minutes, serve with ranch, enjoy!
I made half this recipe and filled mine pretty darn full at it made 14 big taquitos.