Be prepared for your family's upcoming week by picking out your favorite Easy School Lunch Ideas! These are easy, no fuss lunches that are perfect for everyone's lunchbox!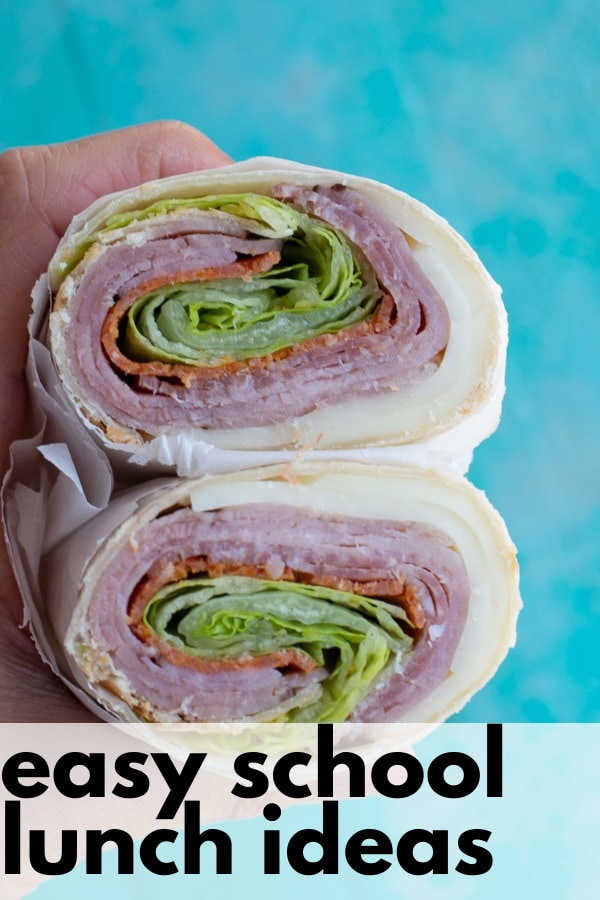 Easy School Lunch Ideas
Packing you, or your children's, lunch boxes can be difficult! They may have liked a sandwich last week, but this week they are not interested. Or you worry that it's not nutritious enough, or maybe your child has a gluten allergy and it makes meal prepping difficult. I totally understand! That's why I made this list of the Easy School Lunch Ideas to try to take the guesswork out of packing a lunch. Just scroll down the list and have everyone pick what they like- problem solved! Easy School Lunch Ideas meal prep is no longer a huge chore- just choose between a few of your family's favorites on this list and feel confident in knowing that everyone is going to actually eat their lunch! Almost all of these recipes are gluten free and several are low carb, so you can easily make a portion for you to take to work!
Lunch Ideas for Picky Eaters
We all know a few picky eaters- macaroni and cheese, peanut butter and jelly and frozen pizza are the only things on the menu. Try your picky eater out on this list of lunch ideas for school- there's so much variety and a lot to choose from. You may be able to get ideas from this list, or mind a few meals that really appeal to your little ones. Each of these recipes can be edited to fit your personal child's taste profiles, so you know they'll at least feel brave enough to try it. Either way, it's a win! It can be so tough when you have a child who is so specific on what they'll eat, but hopefully these Lunch Ideas for Picky Eaters offer a little bit of help! Quick easy school lunch ideas for kids don't have to be complicated, but it can be easy to overthink them, especially if you've got a lot on your plate. Take some of the pressure off and let this guide help you conquer your week!
Cold Lunch Ideas
Each of these healthy Cold Lunch Ideas is a quick, delicious lunch that is full of protein! You can easily make these cold lunch ideas for kids in advance, so all you need to do on a school morning is grab something and throw it in a lunch box. A huge bonus of each of these meals- they require NO cooking! Yep, all of these No Cook Lunch Ideas are super simple, easy and kid-friendly. Each of these are great lunch ideas for school- you don't need to warm anything up, so your kids can just open their lunch and enjoy!
No Cook Lunch Ideas
No Cook Lunch Ideas are the perfect quick easy school lunch ideas for kids!
Easy School Lunch Ideas for Meal Prep Monday through Friday
Coming up with something to prepare for breakfast, lunch and dinner for the members in your household can be exhausting. Especially during the work week- so I wanted to help make it a little bit easier. Check out these Lunch Meal Prep Ideas to really help simplify the process- browse the recipes and decide on lunches that you know are healthy but also EASY! Who has time during the week to worry about packing a lunch every morning? No one! So make sure that you're prepared and ahead of the game.
There are two sections to this group of recipes- Low Prep Lunches and Freezable Meal Prep Lunch Ideas. The Low Prep Lunches are going to be super simple, but require a small bit of cooking, like having cooked bacon or chicken. Your Freezable Meal Prep Lunch Ideas have a little more depth to the recipes, but they are still super simple. But a huge advantage of the freezer meals is that you know you always have something ready to go that you can just grab and warm up- for yourself or the kids, that's a huge time saver!
Lunch Meal Prep Ideas
Save this list of the best Lunch Meal Prep Ideas to make your weekdays a breeze!
Lunch Snacks
You always have to include something next to the main course in a lunch box, right? These Easy Lunch Box Snacks are yummy, healthy and will really help to round out the meal that you're packing. Whether you're planning ahead for you or your children's lunches, you will want to try some of these snacks! There are sweet and savory options, so you know you're hitting everyone's cravings. Make a large batch and enjoy as after school treats, too! Each of these snacks is a quick easy school lunch idea for kids- there's muffins, granola, chips and dips, so everyone is satisfied!
Easy Lunch Box Snacks
Keep some of these Easy Lunch Box Snacks handy to grab-and-go!
More easy meal prep ideas